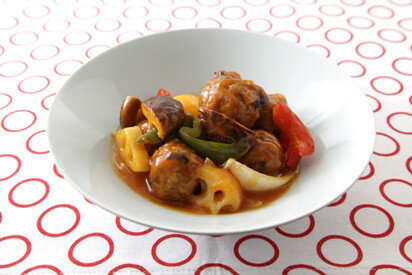 Sweet & Sour Shiitake Meatballs
Add the Umami taste of Shiitake to meatballs. Add some color with vegetables too. By adding moisture like the Shiitake rehydrating liquid when kneading the meatballs, it will turn out plump and fluffy. Knead the minced meat well until it becomes sticky. Deep fry the vegetables as they are for about 10 seconds and the meatballs for 3–4 minutes until they are cooked. Recipe provided by: Hattori Nutrition College
Ingredients (4 servings) (40 minutes)
300g

Minced pork

10

Dried Shiitake-A

1/2 tsp

Salt-A

A pinch of

Pepper-A

1 tsp

Ginger (finely chopped)-A

5cm (15g)

Spring onions (finely chopped)-A

2 tsp

Sake-A

50ml

Shiitake soaking water-A

1

Beaten egg-A

1 Tbsp

Potato or corn starch-A

1/2

Onion

80g

Lotus root

1/2 (50g)

Red bell pepper

2 (80g)

Green bell peppers

as necessary

Deep fryer oil

240ml

Vinegar-B

150ml

Shiitake soaking water-B

6 Tbsp

Tomato ketchup

1 & 1/2 Tbsp

Soy sauce-B

1 & 1/2 Tbsp

Honey-B

2 Tbsp

Sugar-B

1 tsp

Ginger (finely chopped)-B

5cm

Spring onions (finely chopped)-B

as necessary

Vegetable oil

as necessary

Potato or corn starch dissolved in water

1 tsp

Sesame oil
Steps
1
Rehydrate the dried Shiitake, squeeze out excess water, cut in half, roughly dice half of it, and leave the rest halved. (Add the diced Shiitake into the minced meat and serve the rest as side vegetables)
2
Cut the onion, lotus root, and bell peppers into bite-size pieces.
3
Add the minced pork and A to a bowl, knead well, and make meatballs measuring about 3cm in diameter (about 16 meatballs)
4
Heat the frying oil to 180℃ and deep fry the vegetables and meatballs.
5
Heat up vegetable oil in the frying pan and stir fry the spring onions and ginger in ◎ until fragrant.
6
Add the B seasoning and bring to a boil. Then, add 4. and simmer for 1–2 minutes before thickening the sauce with the starch slurry.
7
Once the sauce thickens, pour a ring of sesame oil and serve on a plate.