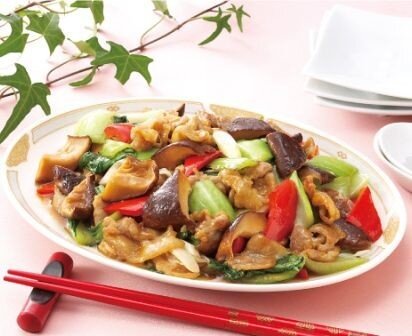 Stir-Fried Bok Choy with Shiitake
Chinese recipes are all the more delicious when made with Japanese dried Shiitake! Dried Shiitake are sweeter and more delicious when rehydrated with cold water, which prevents off flavors.
Ingredients (4 servings)
7 pieces

Dried Shiitake (medium sized)

200 g

Beef or pork

a pinch of

Salt and pepper

1

Egg

1 Tbsp

Potato starch

1/2

White spring onion/scallion

2 heads

Bok choy

2

Red bell peppers 

2 Tbsp

Neutral-flavored oil

1 Tbsp

Sesame oil

2 tsp

Sake-A

2 Tbsp

Soy sauce-A

4 tsp

Sugar-A

1 ,1/2 tsp

Chuka Dashi (Chinese seasoning)-A

1 Tbsp

Water-A

2 tsp

Oyster sauce-A
Steps
1
Rehydrate dried Shiitake in water and cut off stems.
2
Cut meat into bite-sized pieces and season with salt and pepper. Coat pieces in beaten egg and dredge in potato starch.
3
Slice white spring onions and Shiitake. Cut bok choy and red bell peppers into bite-sized pieces.
4
Heat oil in a frying pan, then saute the white spring onion, meat, and Shiitake. Once the meat is cooked through, add bok choy and red bell peppers.
5
Once the red bell peppers are tender, add condiments (marked A) and stir well. Drizzle with sesame oil and serve.