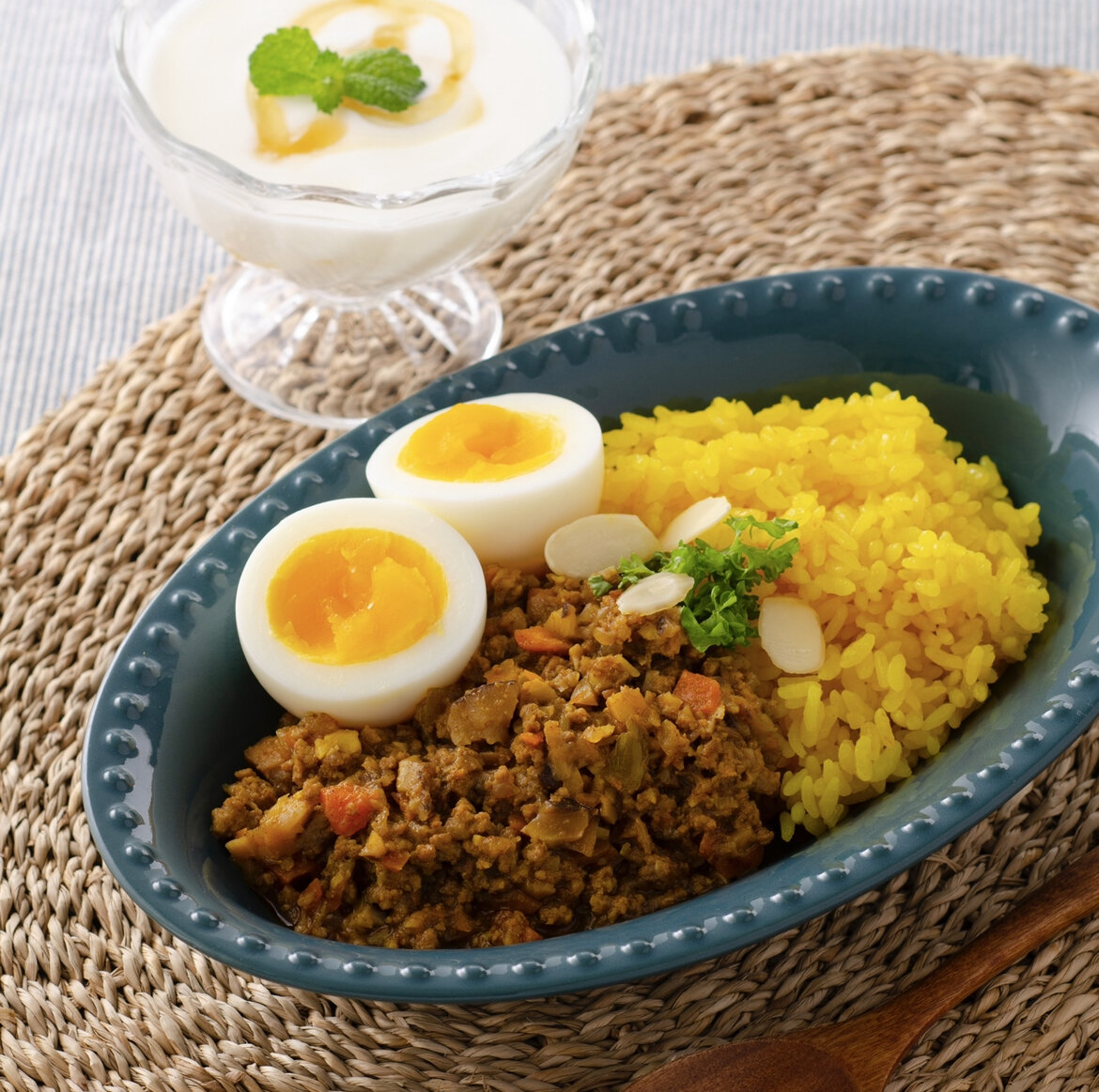 Spicy Dry Curry with Shiitake
Full of spices!! An authentic curry with a lovely aroma to savor. As when making a hamburg steak, leave grill marks on the meat and fry well until the meat's juices are clear to remove the odor. Recipe provided by Hattori Nutrition College.
Ingredients (4servings)
300g

Mixed minced beef and pork

1 (200g)

Onion, finely chopped

1/2 (100g)

Carrot, finely chopped

2 (80g)

Bell peppers, finely chopped

4

Dried Shiitake, coarsely chopped

2 pieces (16g)

Ginger, finely chopped

4 cloves(20g)

Garlic , finely chopped

2 Tbsp

Vegetable oil

1 tsp

Cumin seeds

1 tsp

Salt-A

2 Tbsp

Curry powder-A

2 Tbsp

Ketchup-A

1 bay

Leaf-A

150ml

Shiitake soaking water

350ml

Water

1 Tbsp

Worcestershire sauce

1 tsp

Garam masala

as required

Salt and pepper

to taste

Cayenne pepper

4 cups

Turmeric rice

as required

Parsley

to taste

Boiled egg (For the garnish)

to taste

Almond slices (For the garnish)

to taste

Pickles (For the garnish)
Steps
1
Finely chop the onion, carrot, bell pepper, ginger, garlic and parsley. Rehydrate the dried Shiitake and chop coarsely.
2
Heat 1 Tbsp of vegetable oil in a frying pan. Add the meat and stir fry until it comes apart. Remove the cooked meat.
3
Heat the oil that remains in the pan and stir fry the garlic, ginger and cumin seeds over a low heat.
4
When the aroma emerges, add the onion, carrot, bell pepper and Shiitake and fry over a medium heat.
5
Add the flavorings from A and continue to stir fry.
6
Add the Shiitake rehydrating liquid, water, Worcestershire sauce and cooked meat, bring to the boil and simmer for 30 minutes.
7
Add the garam masala and, if you want more spiciness, the cayenne pepper. Season with the salt and pepper.
8
Serve the turmeric rice in dishes, sprinkle with the parsley and serve 4. on top. Garnish to taste.
9
(※) How to make turmeric rice: mix together three cups of rice, three cups of water, 2 tsp turmeric and 1 tsp butter, and cook normally.