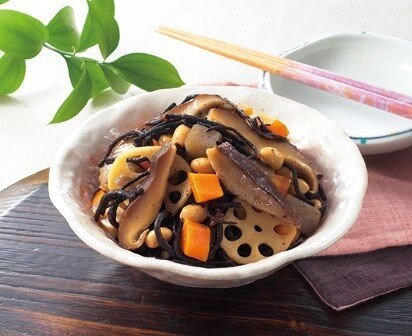 Simmered Hijiki Seaweed and Shiitake Mixture
A delicious, healthy recipe with dried food! Dried Shiitake becomes delicious with more sweetness and no unfavorable tastes when it is hydrated in cold water.
Steps
1
Rehydrate the dried Shiitake in water and slice them. Rehydrate the Hijiki seaweed so that it remains firm.
2
Parboil the konnyaku and cut it into small pieces. Cut the carrot into pieces with a similar size. Peel the skin off of the lotus root, cut them into thin strips, and put them in water to remove the bitterness.
3
Heat the vegetable oil in a pot; stir-fry 1, 2, and the soybeans boiled in water; add the water used to rehydrate the Shiitake, sugar, and soy sauce; and simmer it until the broth evaporates.