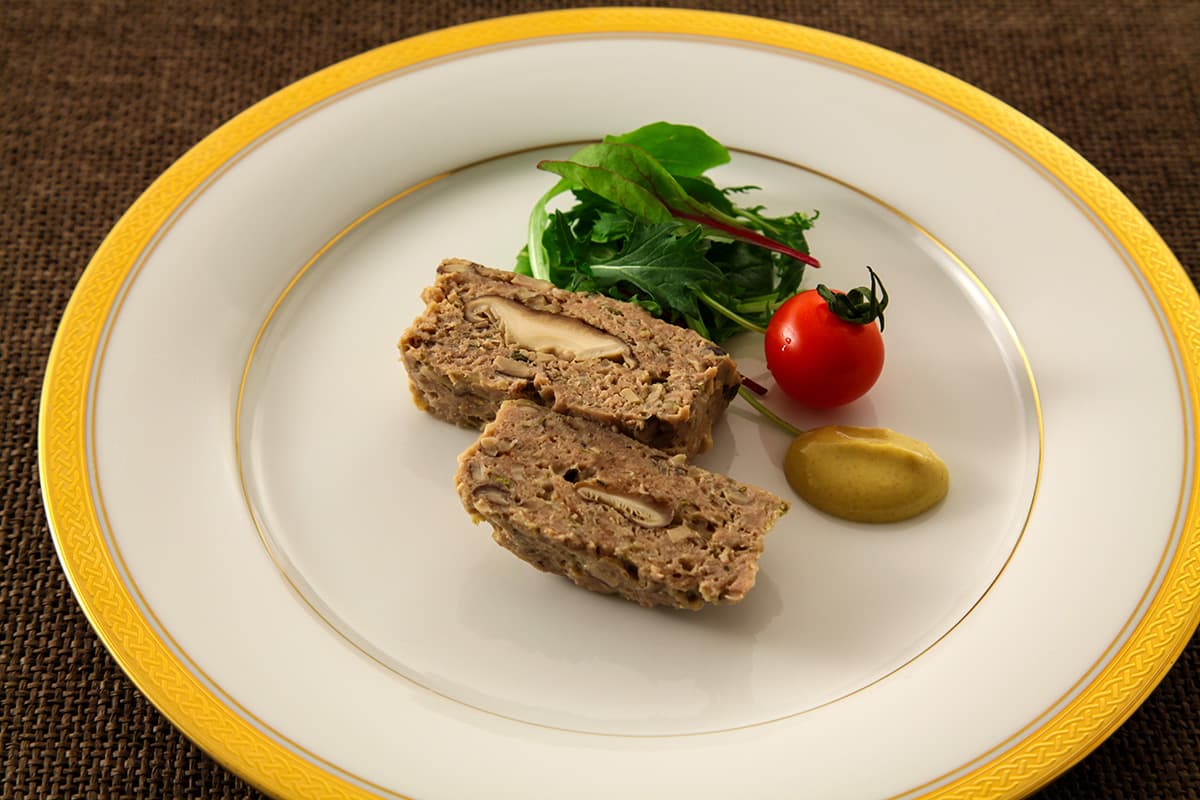 Shiitake Terrine
With this Terrine that is packed with the Umami taste of Shiitake, you won't be able to resist wine! Cooking it slowly and gently is the key to a moist finish, so bake it in a water bath at a low temperature. Recipe provided by: Hattori Nutrition College
Ingredients (4 servings)
270g

Minced pork

10 pieces

Dried Shiitake

1 (200g)

Onion (finely chopped)

1 clove (5g)

Garlic (finely chopped)

1 Tbsp

Vegetable oil

1

Egg -A

as required

Salt & pepper-A

A pinch of

Nutmeg (powder) -A

A pinch of

sage (powder) -A

1 Tbsp

Rosemary -A

1 Tbsp

Lemon juice -B

2 Tbsp

Olive oil -B

A pinch of

salt & pepper -B

to taste

Mustard

to taste

(Garnish) Mesclun greens
Steps
1
Finely chop the onion. Rehydrate the dried Shiitake, then dice 8 of them, and cut off the hard parts of the stem on the other 2. Finely chop the rosemary.
2
Heat up vegetable oil in the pot, then stir fry the onion and garlic until brown, and set aside to cool.
3
Add the minced pork, diced Shiitake, 2., and A to a bowl and mix until sticky.
4
Coat a loaf pan with butter (not included in ingredients), cover it with baking paper, and add the mixture from 3., sandwiching the dried Shiitake (2 pieces) in the middle.
5
Cover with an aluminum foil and bake in a water bath in the oven at 160 degrees Celsius for 40 minutes.
6
Let it cool in the fridge and serve with mesclun greens tossed in B. Serve with mustard if desired.