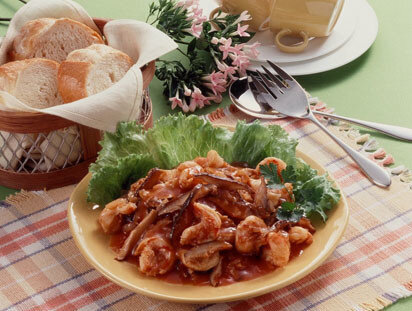 Shiitake and Shrimps with Sweet & Sour Chili Sauce
Use Shiitake to make your Chilli Shrimps even more delicious!
Ingredients (4 servings) (50 minutes)
8–10

Dried Shiitake

1 Tbsp

Olive oil

1

Clove of garlic (finely chopped)

1

Onion (wedged)

300ml

Shiitake soaking water

10–20

Shrimps

A pinch of

salt & pepper

1 Tbsp

Potato or corn starch

as necessary

Potato or corn starch dissolved in water

3 Tbsps

Tomato ketchup-A

1/2~1

Lemon (juiced)-A

1/2Tbsp~1

Honey-A

as necessary

Chili sauce or Tabasco sauce
Steps
1
Rehydrate the dried Shiitake and slice them. Finely chop the garlic and cut the onion into wedges.
2
Remove the shells of the shrimps, cut them in half, rub in salt & pepper, and coat with potato or corn starch.
3
Heat up the olive oil and garlic in a frying pan and stir fry until aromatic before adding the onion and Shiitake rehydrating liquid.
4
Simmer for about 5–10 minutes until the Shiitake is plump. Then, add the shrimps from 2. on top and let it simmer with a lid on.
5
Lightly stir, add the A seasoning, and add some starch slurry if the sauce is not thick enough.