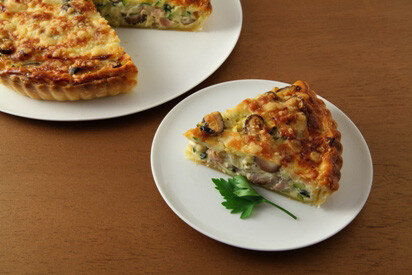 Shiitake Quiche
Easy if you use frozen pastry sheets. Great for entertaining too. With a home–made pie crust, you can also make quiche. Recipe provided by Hattori Nutrition College.
Ingredients (4 servings)
8

Dried Shiitake

40g

Bacon

200g

Zucchini

1/2

Onion (100g), sliced

2 Tbsp

Olive oil

Salt and pepper, as required

2

Eggs

100ml

●Milk

100ml

●Fresh cream

●A pinch of nutmeg powder

1/4 tsp

●Salt

●Coarsely ground black pepper, as required

2

Frozen pastry sheets

Egg for brushing, as required

45g

Gruyere cheese

15g

Parmesan cheese

Italian parsley, as required
Steps
1
(※How to make frozen pastry sheets) Put two pastry sheets together and dust with flour while stretching them to be slightly larger than the mold. Make holes with a fork at the base and the sides.
2
Place a weight on top and cook in an oven preheated to 200 degrees Celsius for 20–30 minutes. Remove the weight, brush with egg and cook for another five minutes.
3
Rehydrate the Shiitake in plenty of water and slice a little thickly. Cut the bacon into 1cm thick strips and parboil.
4
Cut the zucchini into rods 4cm long and 3mm across.
5
Cut the onion into slices in line with the onion's own fibers.
6
Heat the olive oil in a frying pan. Add the bacon, onion, zucchini and Shiitake in that order and stir fry. Lightly season with salt and pepper.
7
Break the eggs into a bowl, add the ●, and mix, taking care not to whip into a foam. Strain once.
8
Place evenly on the pastry sheet and pour on the egg mixture.
9
Sprinkle on the Gruyere and Parmesan and bake in the oven at 220 degrees Celsius for 15 minutes.
10
When cooked, leave to cool in the mold.
11
When cool, cut into convenient sizes and garnish with Italian parsley.