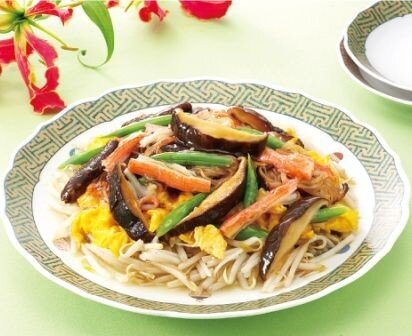 Shiitake Chinese-style Ankake Sauce
This is a healthy Chinese-style Ankake sauce with bean sprouts♪
Ingredients (4 servings) (30 minutes)
Steps
1
Rehydrate the dried Shiitake.
2
Slice the Shiitake and green beans. Cut the crab flavored fish paste to appropriate sizes and tear them.
3
Heat up the sesame oil in a frying pan, lightly stir fry the bean sprouts, add salt and pepper, and set aside on a plate.
4
Add vegetable oil to the frying pan, make scrambled eggs with the beaten eggs, and put on top of 3.
5
Add A seasoning, Shiitake, and crab-flavored fish paste to the frying pan in 4. and bring to a boil before adding the green beans.
6
Add the starch slurry to 5. and stir until the sauce is thick. Pour over 4. and serve.