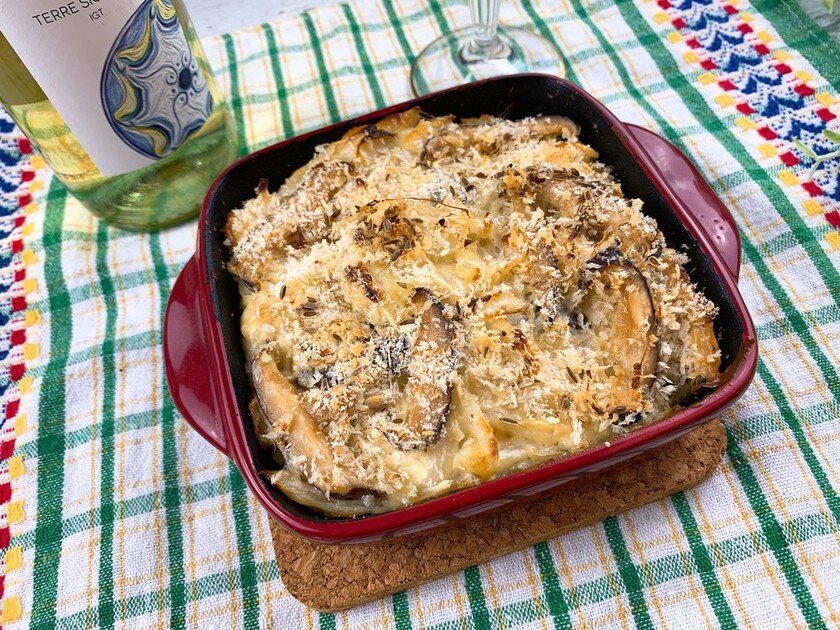 Shiitake and Potato Sour Cream Bake
Shiitake and sour cream are a perfect match! The aroma of Shiitake enhances the potatoes' flavor. The aroma of the dill is wonderful, and it goes well with white wine.
Ingredients (2 servings)
5g

dried Shiitake

1/4

Onion (65g)

2

Potatoes (280g)

4 Tbsp

Sour cream

1 Tbsp

dried Shiitake rehydrating liquid

1/4 tsp

Salt (or a little more)

A pinch of pepper

2 Tbsp

Breadcrumbs

A pinch of dried dill, if available (if not, dried parsley will do fine)

1 Tbsp

Olive oil
Steps
1
Rehydrate the dried Shiitake and slice. Finely chop the onion.
2
Boil and mash the potatoes.
3
Stir fry 1. in the olive oil until soft, then add half the salt, the sour cream and the Shiitake rehydrating liquid, and mix well.
4
Season with the pepper and the remaining salt.
5
Put 4. in a heat-resistant dish containing 2. and sprinkle the breadcrumbs and dill on top. Bake in an oven at 230 degrees Celsius for ten minutes or a little more until a grilled color starts to appear.