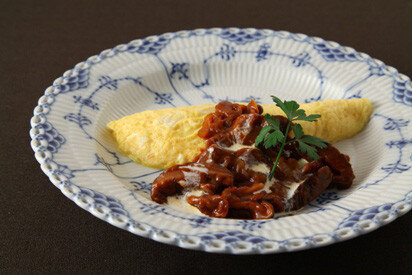 Mushroom sauce omelet
This dish is a fluffy omelet topped with lots of mushroom sauce. The red wine is reduced until all the alcohol is cooked off, so it adds depth of flavor to the sauce. When cooking the omelets, mix the egg rapidly for a fluffy finished product. Recipe provided by: Hattori Nutrition College
Ingredients (4 servings)
6

dried Shiitake

100 g

Shimeji mushrooms

1/2

Onion (100 g)

1/2 clove

Garlic (minced)

20 g

Butter

70 ml

Red wine

1 can

●Demi-glace sauce (290 g)

50 ml

●Shiitake hydrating liquid

50 ml

●Bouillon

70 g

●Canned whole tomatoes

2 Tbsp

●Ketchup

2 tsp

●Worcestershire sauce

8

Eggs

-

Salt and pepper to taste

4 Tbsp

Heavy cream

40 g

Butter

-

Italian parsley to taste

-

Heavy cream to taste
Steps
1
First, make the mushroom sauce. Briefly rinse the dried Shiitake, then rehydrate with water and slice thinly.
2
Break the shimeji mushrooms into small clumps and thinly slice the onion. (Save the Shiitake hydrating liquid.)
3
Add butter (20 g) to a pot along with the garlic and onion and sauté until the onion softens.
4
Add the mushrooms to the pot from step 3, add the red wine, increase the heat to high, and cook off the alcohol.
5
When the liquid has reduced down almost completely, add the seasonings marked with ● and simmer for 15 - 20 minutes.
6
Season the sauce in step 5 to taste with salt and pepper (not included in the ingredients list.
7
Next, make the omelets (1 at a time). Crack 2 eggs and add them to a bowl along with salt, pepper, and heavy cream (1 Tbsp) and mix thoroughly.
8
Add butter (10 g) to a frying pan and pour in the mixture from step 7 all at once.
9
Mix with long cooking chopsticks in large strokes, and when the edges start to set, roll the omelet from the front of the pan toward the back. Adjust the shape of the finished omelet and plate it.
10
Top the omelet with the sauce from step 6, add heavy cream to taste, and garnish with Italian parsley.