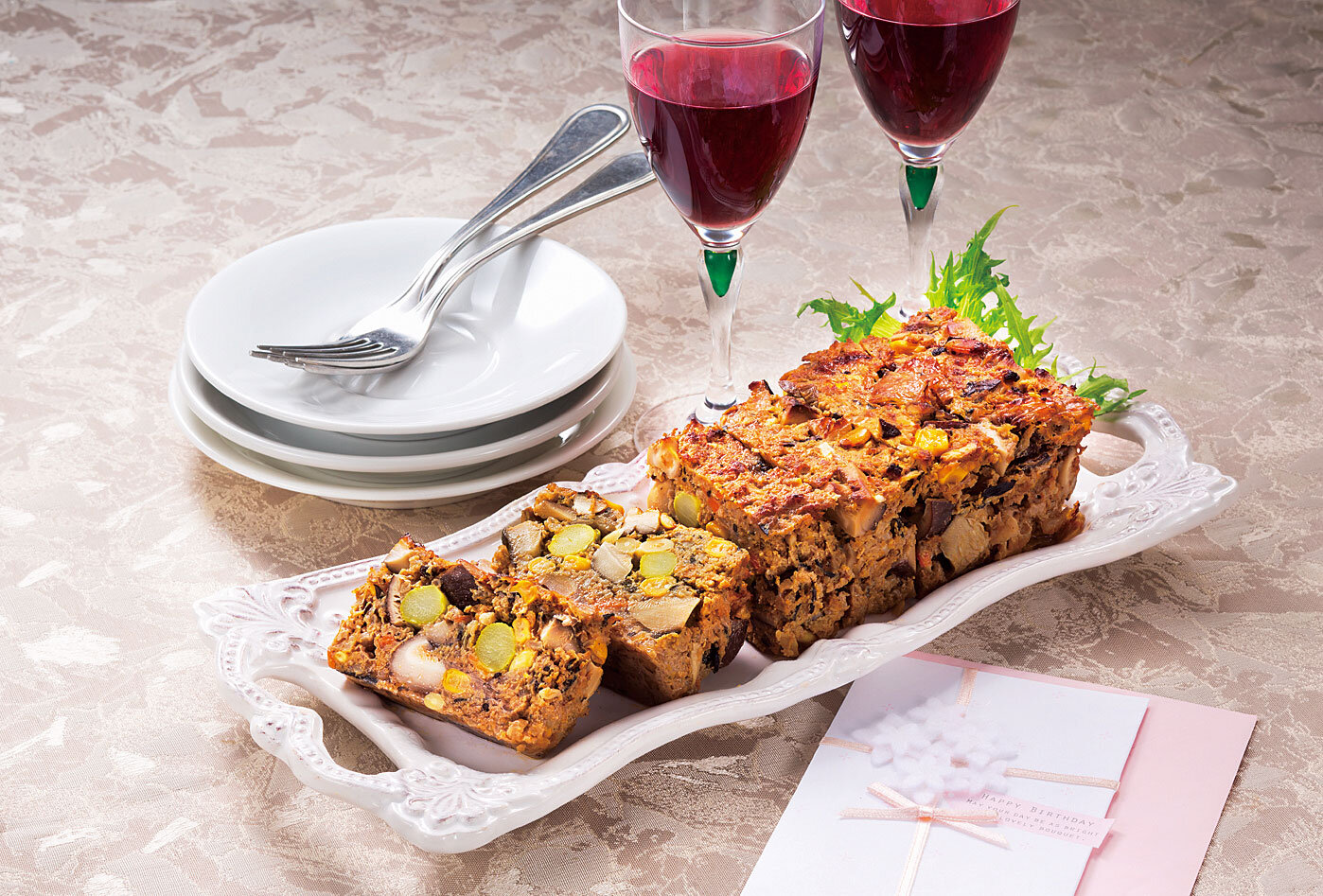 Meat Loaf with Curry Flavor & Shiitake
It is very delicious, so everyone wants to have it with some wine. Dry Foods meatloaf, very tasty! I used dried Shiitake, Hijiki Seaweed, Kiriboshi (dried Daikon), and Kanten (agar). All you have to do is mix it up, pack it in a mold, and bake it in the oven.
Ingredients (2 servings)
3

Dried Shiitake ( 1cm squares )

1/4 ( 3g )

Agar strips ( cut in small pieces and soak in water )

1.5g

Hijiki Seaweed ( roughly minced )

7.5g

Dried Daikon & Carrot Strip Mix( roughly minced )

1

Onion ( minced )

25g

Corn

150g

Mixed mince meat

2

Asparagus

1/2 Tbsp

Olive oil

8g

Pine nuts -A

A dash of

Nutmeg -A

2g

Salt -A

A dash of

Pepper -A

1/2 Tbsp

Ketchup -A

2.5g

Curry powder -A

14g

Worcester sauce -A
Steps
1
Reconstitute the shiitake with water and cut in 1cm squares. Reconstitute the hijiki and Dried Daikon & Carrot Strip Mix with water and mince roughly.
2
Put olive oil in a frying pan, add the onion, and stir-fry on medium heat until it is heated.
3
In a bowl, put in the Step 1 ingredients and the heated onion, corn, ground meat, agar-agar strips, and Seasoning A, and mix well.
4
In an oiled pound cake pan, put on a cooking sheet and put in the Step 3 mixture and asparagus. In an oven preheated to 200?C, bake the meat loaf for 40 min.