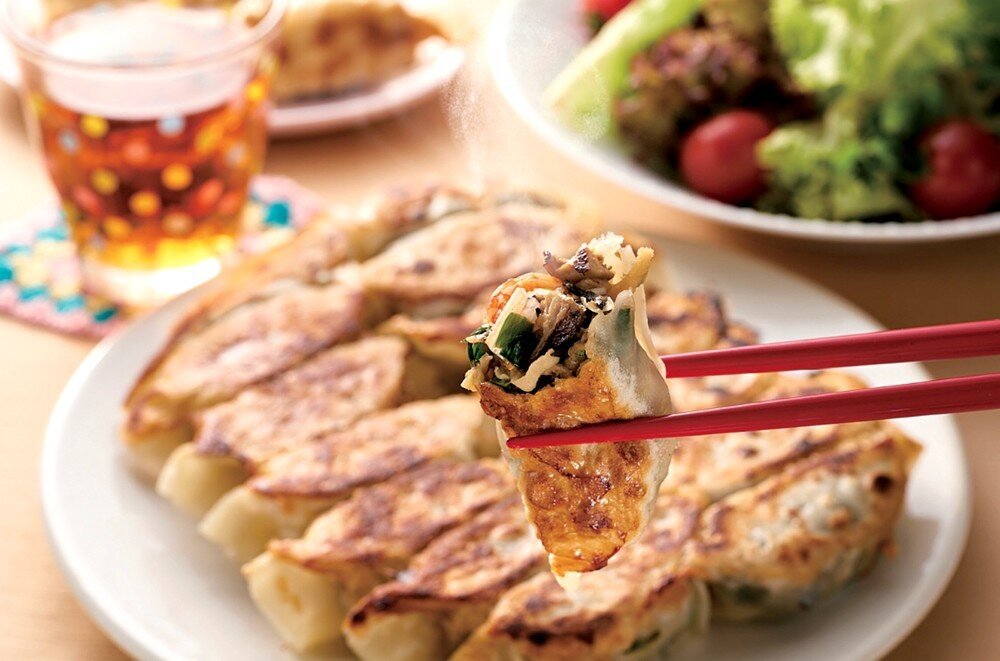 Gyoza with Shiitake, Scallops & Shrimp
"Gyoza," Japanese pan-fried dumplings, is a very popular dish in Japan. Almost every Ramen shop provides Gyoza. Gyoza will be more delicious with Shiitake and sun-dried foods. I use Dried Shiitake, Kombu, Dried scallops, Dried Daikon Strip, hijiki, Sakura shrimp, etc. Everyone eats up quickly the pile of this Gyoza.
Ingredients (4 servings)
13 ( 20g )

Dried Shiitake mushrooms

20g

Kiriboshi daikon( Dried Daikon & Carrot Strip Mix )

2.5g

Hijiki Seaweed

2.5g

Kombu kelp

2 ( 7g )

Dried scallops

5g

Sakura shrimp

1 bunch ( 50g )

Nira( Japanese garlic chives )

1 ( 30g )

Negi (Japanese Long Onion)

15g

Ginger

2g

Garlic

80g

Ground pork

A dash of

Salt and pepper

20

Large gyoza wrappers

Suitable amount

Sesame oil

100ml

Water

1 Tbsp

Soy sauce -A

1 Tbsp

Sesame oil -A

A dash of

Pepper -A

1/2 Tbsp

Oyster sauce -A
Steps
1
Reconstitute the dry ingredients with water and squeeze out the water, then mince with the other ingredients.
2
Add salt and pepper to the ground pork and mix well until it becomes sticky.
3
Add Step 1 and 2 ingredients, Seasoning A and mix well.
4
4. Put the Step 3 filling into the wrapper.
5
Spread sesame oil on a frying pan and put the gyoza on the pan. When they turn brown, add 100ml of water and put on the cover.
6
When the pan quite steaming, take off the cover and add sesame oil for flavor.