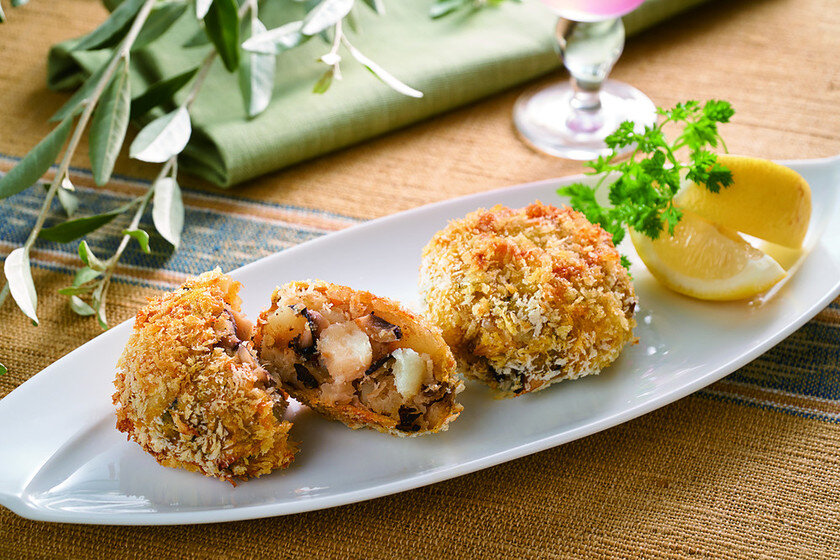 Fishcake Stuffed with Shiitake
The aroma of the potatoes and white-flesh fish will be supercharged by the synergy between fermented black soybeans and Shiitake♪ Eat it while it's piping hot and down it with beer! Recipe provided by: DRY and PEACE
Ingredients (3-4 servings)
5g

Dried Shiitake

2 fillets (170g)

Fresh codfish

150g

Potatoes (for mashing)

1 tsp

Douchi, Chinese fermented black beans

1 tsp

Oyster sauce

A pinch of

salt

as necessary

Wheat flour

as necessary

Beaten eggs

as necessary

(Panko) breadcrumbs

as necessary

Olive oil

as necessary

Lemon

1 Tbsp

White wine -A

30ml

Shiitake soaking water -A
Steps
1
Rehydrate the dried Shiitake with water. Squeeze out the water and slice thinly.
2
Boil (or steam) the potatoes, peel the skins, and roughly mash them.
3
Add the fresh cod together with A to a pot and cook over medium heat with the lid on and flake it into big chunks. (remove the skin and bones)
4
Mix 1., 2., 3., chopped Douchi, oyster sauce, and salt, then shape into 7–8cm discs before coating them with wheat flour, egg, and breadcrumbs.
5
Use a brush or spray to coat the surface of the fishcakes from 4. with olive oil, then bake in the oven at 180 degrees Celsius for 20 minutes.
6
Increase the temperature to 220 degrees and bake for another 5 minutes until golden brown.
7
Serve with lemon on the side.