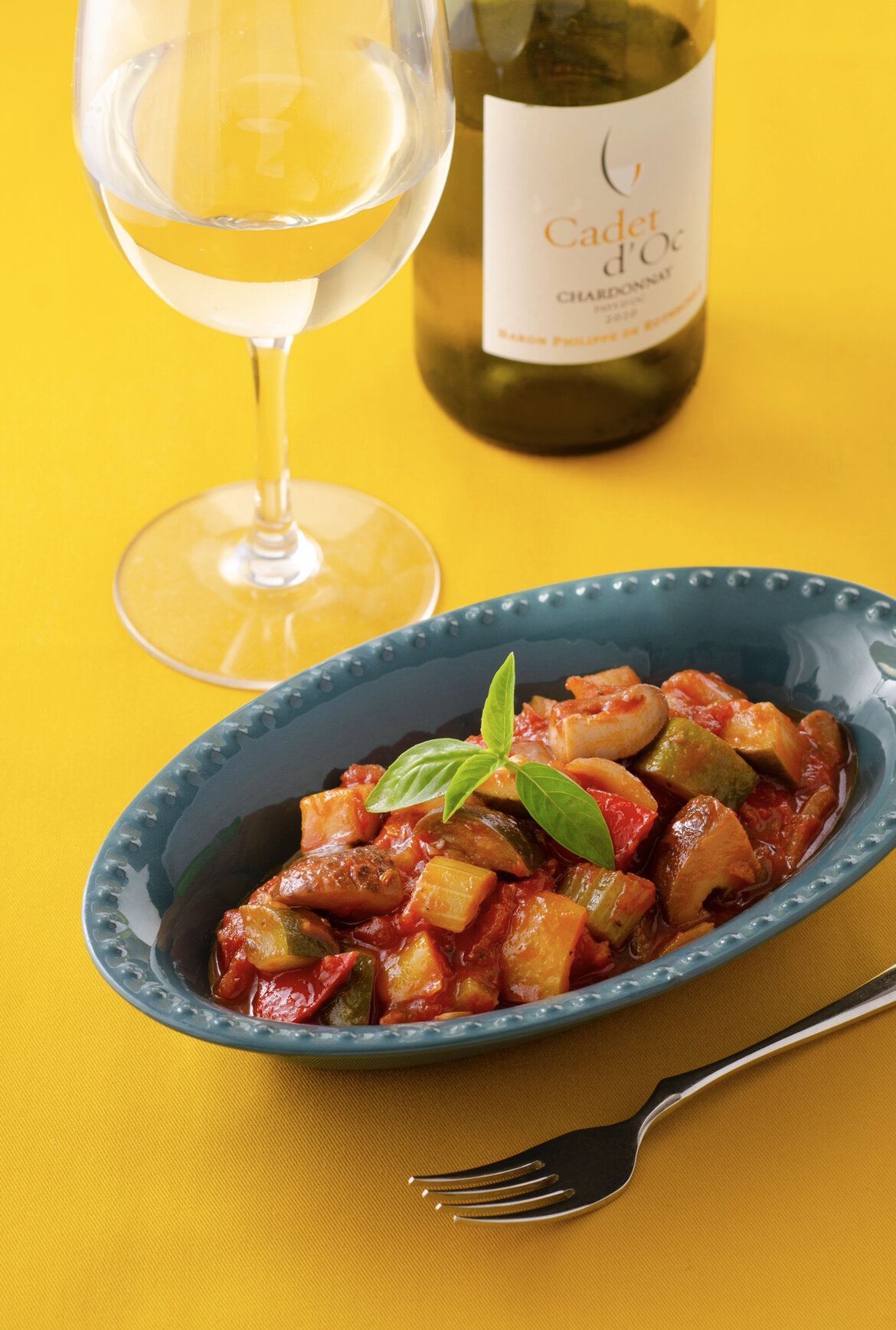 Delicious Shiitake Ratatouille
Using dried Shiitake and tomato paste, let's cook a perfect ratatouille free of artificial seasonings. Guanylate found in dried Shiitake enhances the Umami taste of other ingredients. Sautee and stew vegetables to make this simple ratatouille with a rich natural Umami taste that makes it a fantastic side dish for wine!
Ingredients (4 servings)
2

dried Shiitake

1/2

a zucchini

1/2

a eggplant

5cm

a celery stalk

1/2

an onion

1/2

a bell pepper

1/2 ( 200g )

a can of cut tomatoes

1 Tbsp ( 18g )

tomato paste

1/2 - 1 clove

garlic, finely chopped

30ml

white wine

30ml

Shiitake soaking water

1

bay leaf

1/2 tsp

salt

A pinch of

pepper

A pinch of

thyme

1 Tbsp

olive oil

to taste

Basil leaves
Steps
1
Rehydrate dried shiitake in the refrigerator overnight (save the broth, as it will be used later).
2
Cut the shiitake, zucchini, and eggplant into bite-size pieces. Cut the celery into 5 mm-wide slices.
3
Cut the onion and bell pepper into bite-size pieces and finely chop the garlic.
4
Heat the olive oil in a fry pan over a low flame, and fry the garlic and onion until fragrant.
5
Add the mushroom, zucchini, eggplant, and celery and cook gently over medium heat until soft.
6
Add the bell pepper and fry until coated in oil.
7
Add the salt, pepper, canned tomatoes, tomato paste, wine, reconstitution broth, bay leaf, and thyme and cover, cooking over a low flame for roughly 20 minutes.
8
Remove lid and lightly stir for 1 - 2 minutes. When glistening, remove from heat, sprinkle basil on top as desired and serve.