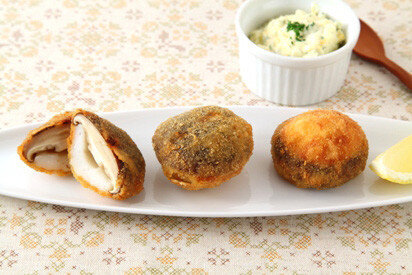 Deep-fried Shiitake Filled with Fish Paste with Tartar Sauce
Plump Shiitake stuffed with tender fish paste and deep-fried. This snack goes perfectly with beer! Coating the fish paste with wheat flour in step 4. will prevent it from separating from the Shiitake. Recipe provided by: Hattori Nutrition College
Steps
1
Rinse the dried Shiitake with flowing water and rehydrate with water.
2
Make the tartar sauce. Dice the boiled egg and finely chop the pickles and onion. Soak the onions in water.
3
Mix the ingredients from 2. in a bowl and flavor with the mayonnaise and pepper.
4
Mix A in a separate bowl and divide into 12 parts. Squeeze the moisture out of the rehydrated Shiitake, cut off the stems, coat the caps with wheat flour, and stuff with A.
5
Dip 4. in flour, beaten eggs, and breadcrumbs, in that exact order. Deep fry in 170 degrees Celsius oil until golden brown.
6
Serve on a plate with tartar sauce, garnished with parsley. Squeeze a wedge of lemon on top if you like.