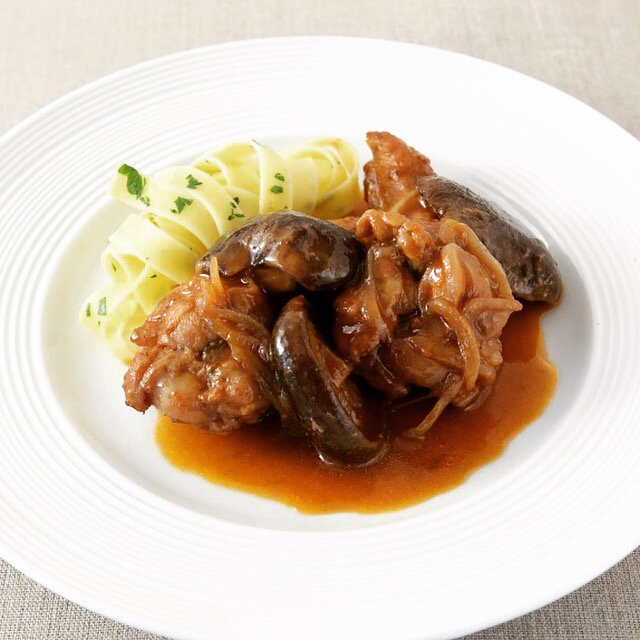 Chicken Wings & Shiitake Braised in Red Wine
The synergy between the Umami taste of the chicken and Shiitake will create rich flavors! Lock the Umami taste in the chicken by coating the skin with wheat flour. Cook the tomato puree and red wine to a simmer first to get rid of the acidity and alcohol for a well-rounded taste. Recipe provided by: Hattori Nutrition College
Ingredients (4 servings)
12

Small dried Shiitake

12(600g)

Chicken wings

as necessary

Wheat flour

1 (250g)

Onion (fine slices)

2 cloves (10g)

Garlic

2 Tbsp

Olive oil

200ml

Red wine

100ml

Tomato puree

200ml

Shiitake rehydrating liquid

1

Bay leaf

to taste

Salt

120g

☆Tagliatelle

20g

☆Butter

to taste

☆Salt & pepper

as necessary

☆Italian parsley (finely chopped)
Steps
1
Finely slice the onion and crush the garlic. Rehydrate the Shiitake.
2
Rub the drumettes with salt, wipe them dry of the moisture that comes out, and lightly coat them with wheat flour.
3
Heat up olive oil in a pot and fry the drumettes and Shiitake. Once brown, remove the drumettes from the pot and set them aside.
4
Slowly stir fry and caramelize the garlic and onion with the oil left in the pot, then add the tomato puree and red wine. Bring it to a boil to evaporate the alcohol.
5
Add the Shiitake rehydrating liquid and bay leaf, bring to a boil, and add the drumettes and Shiitake. Cover with parchment paper lid and simmer for 30 minutes on low heat.
6
Cook the tagliatelle according to the time shown on the packaging, coat with butter, then toss with salt, pepper, and Italian parsley.
7
Plate up 5. and serve with the tagliatelle from 6.