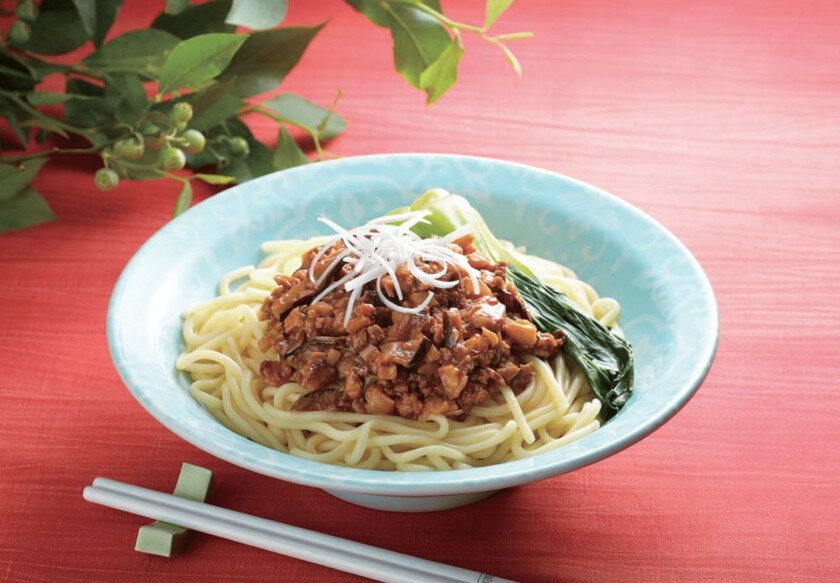 Zhajiangmian with Shiitake
This goes well not only with noodles but also with rice! You can adjust the level of heat to your preference by varying the amount of doubanjiang. Dried Shiitake are sweeter and more delicious when rehydrated with cold water, which prevents off flavors.
Ingredients (2 servings)
10 g

Dried Shiitake

150 g

Ground pork

1/2 tsp

Doubanjiang (spicy chili bean paste)

a pinch of

Neutral-flavored oil

1 Tbsp

Potato starch dissolved in water

a pinch of

Sesame oil

2 servings

Chinese noodles

1 Tbsp

Sake-A

1 tsp

Potato starch-A

1 Tbsp

Ginger (minced)-B

1/2 (50 g)

Green onion/scallion, minced-B

70 g

Boiled bamboo shoots, minced-B

2 Tbsp

Tianmianjiang (sweet bean sauce)-B

1 Tbsp

Miso -C

1 Tbsp

Soy sauce-C

1 Tbsp

Sugar-C

100 ml

Water-C
Steps
1
Rehydrate dried Shiitake with water. Once rehydrated, cut off stems and mince.
2
Season ground pork with ingredients marked A.
3
Heat oil and doubanjiang in pot over low heat until fragrant.
4
Squeeze liquid from rehydrated Shiitake. Add the mixture from step 2 to the pot from step 3 and cook. Once the meat has browned, add ingredients marked B and the Shiitake and fry while stirring.
5
Once the mixture has absorbed the oil, add the ingredients marked C and cover. Bring to a boil then reduce heat to low. Simmer for about five minutes or until the flavors have melded.
6
Add the starch dissolved in water to the mixture from step 5. Once the mixture has thickened, drizzle with sesame oil to finish.
7
Boil Chinese noodles and serve with the mixture from step 6. Top as desired with julienned green onion, shredded red pepper, cucumber, or boiled bok choy.
8
Adjust spiciness to your preference using doubanjiang.