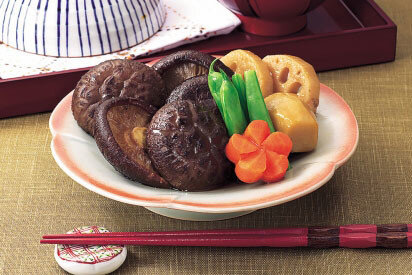 Simmered Shiitake and Root Vegetables
Root vegetables warm you up. This nimono dish is perfect for the cold winter months.
Ingredients (4 servings)
8

dried Shiitake mushrooms

6

Taro roots

130g

Lotus root

1

Medium carrot

1

Dashi broth packet

300ml

dried Shiitake liquid

300ml

Water

1 Tbsp

• Sugar

1 Tbsp

• Mirin

2 Tbsp

• Light soy sauce
Steps
1
Rehydrate the dried Shiitake mushrooms and cut off stems. Parboil the taro roots to remove the sliminess, and cut the lotus root and carrot into rounds.
2
Add the Dashi broth packet, reserved liquid, water, Shiitake, lotus root, taro root, and carrot to the pot, put it on the heat, let it come to a boil, and remove the Dashi broth packet after 2 minutes.
3
Add the seasonings marked with •, and simmer at low to medium heat for 30 minutes.