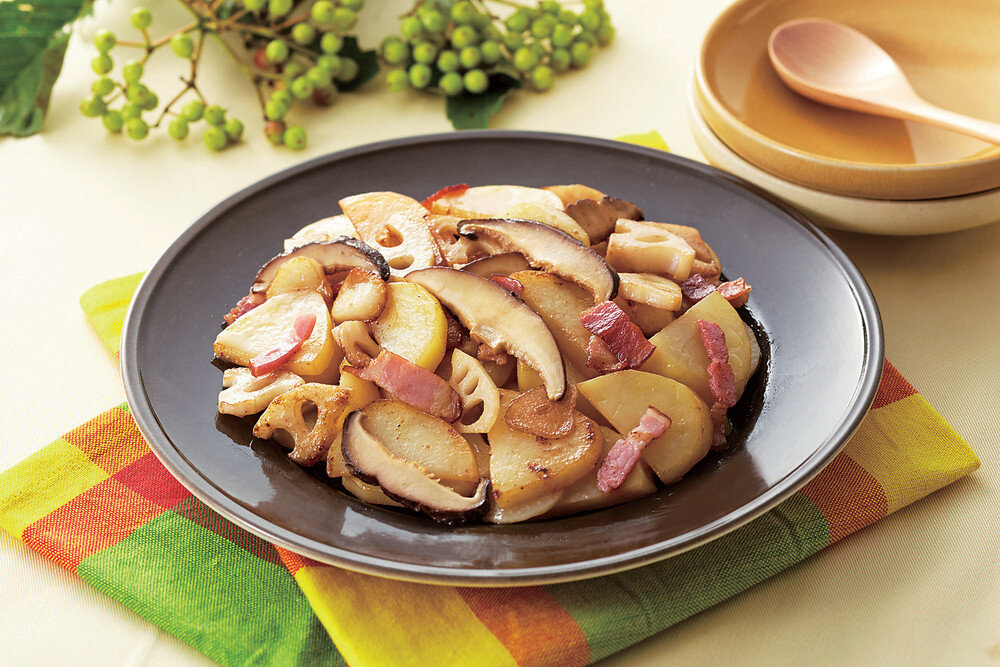 Potato & Shiitake Stir-fried with Mayonnaise
The flavors of Shiitake will further accentuate the warmth and tenderness of the potatoes! Your children will love this dish♪
Ingredients (4 servings) (30 minutes)
4

Potatoes (cut into half-moons)

4 pieces

Dried Shiitake

80g

Lotus root (boiled and canned)

4 strips (34g)

Bacon

1 clove

Garlic (thinly sliced)

2 Tbsp

Olive oil

1 Tbsp

Soy sauce-A

2 Tbsp

Mayonnaise -A
Steps
1
Rehydrate the dried Shiitake with water, cut off the stems, and slice.
2
Thinly slice the garlic and lotus root, then cut the bacon into 2cm strips.
3
Peel the potatoes, cut them in half lengthwise, and slice them into 5cm thick half-moons. Then, boil them for a short time. (You may use a microwave instead)
4
Heat up a frying pan, add olive oil, and stir fry the sliced garlic until aromatic.
5
Add the bacon, Shiitake which have been lightly squeezed, lotus root, and potatoes, and stir fry. Finally, season with A and serve.