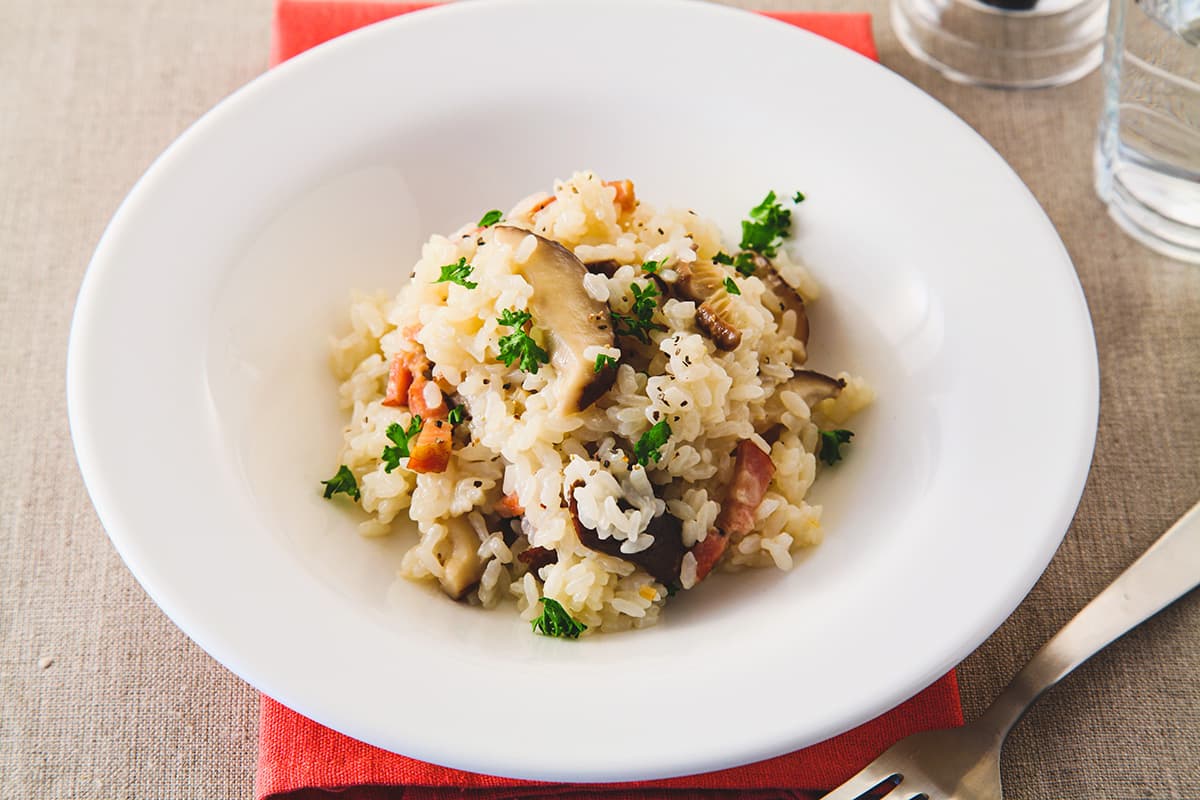 Shiitake Risotto
Umami rich Shiitake risotto cooked with the stem and Shiitake broth! This risotto is filled with the Umami taste of Shiitake and bacon. It is a Japanese-style risotto made with cooked rice. The Umami taste of Shiitake and bacon allows you to cook this delicious dish in a shorter time. It is milder than risottos made with butter and is recommended for people with a sensitive stomach. Be careful not to stir it too much as the rice may crumble and become sticky. Recipe provided by: Hattori Nutrition College
Ingredients (4 servings)
500g

Cooked Rice

8 pieces

Dried Shiitake

60g

Thick-cut bacon

1/2 clove

Garlic (finely chopped)

2 Tbsp

Vegetable oil

300ml

Shiitake soaking water + water -A

1 Tbsp

White soy sauce with Dashi broth-A

3 Tbsp

Parmesan cheese

as necessary

Parsley (finely chopped)

as necessary

Coarsely ground black pepper
Steps
1
Rinse the dried Shiitake with running water and rehydrate with water.
2
Slice the Shiitake into 5mm slices and finely chop the stems. Cut the bacon into 2cm strips.
3
Add vegetable oil, garlic, and Shiitake into a frying pan and cook on low heat.
4
Once fragrant, add the bacon and the remaining Shiitake, in that order, then season with salt & pepper (separate from ingredients), and stir fry for a short time.
5
Add rice and A to 4. and turn the heat to high. Once boiling, turn the heat down to medium and stir occasionally while letting the moisture evaporate.
6
Finally, add Parmesan cheese and mix, before serving it on a plate and garnish with parsley. Add a sprinkle of coarsely ground black pepper, to taste.