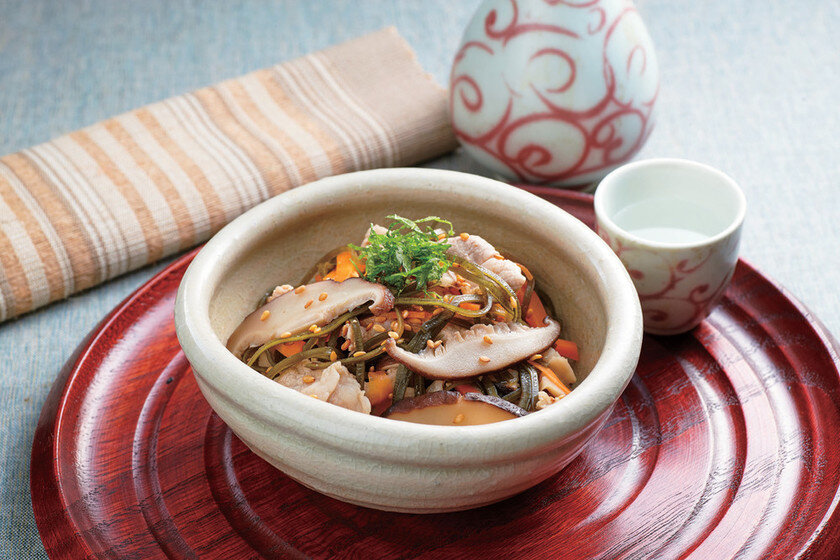 Shiitake, Kombu, and Pork Dressed With Sesame Ponzu Dressing
The dried Shiitake brings out the Umami taste of the pork, resulting in a wonderful snack.
Ingredients (2 servings)
5

Dried Shiitake

15g

Diced Kombu kelp

150g

Thinly-Sliced Pork Loin

20g

Carrots (Cut Into Thin Strips)

5 Tbsp

Ponzu-A

1 Tbsp

Sesame Oil-A

2 tsp

Sugar-A

500ml

Water Used to rehydrate the Shiitake and Kombu.

to taste

Roasted Sesame Seeds
Steps
1
Rehydrate the cut kombu and Shiitake in water. Slice the Shiitake. Save the water used to rehydrate the kombu and Shiitake.
2
Put the water used to rehydrate the kombu and Shiitake over heat, add ①, and take it off of heat when it comes to a boil.
3
Cut the carrots into thin strips, quickly boil them in the hot water from ②, and drain them.
4
Separate the thinly-sliced pork loin and place it in the same hot water from ②. Remove the pork when the color changes, place it in cold water, and drain it.
5
Add the condiments from A into a bowl and mix them. Dress ②, ③, and ④, which have been cooled and drained, into this mixture.
6
Serve it on a plate and top it with white sesame seeds to your liking.