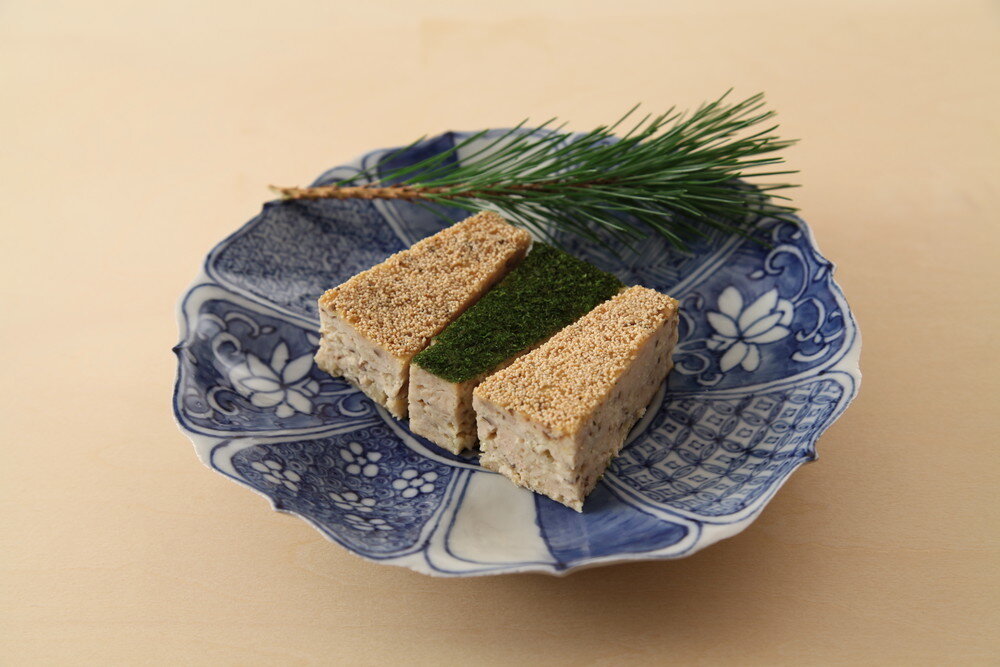 Shiitake-infused Matsukaze
The thinly sliced Shiitake will add a unique texture to this improvised Japanese New Year dish. Use more chopsticks to make the minced meat finer. It may fall apart if you cut it right after it is cooked, so let it cool down before cutting it. The traditional "Matsukaze (literally wind in the pines)" dish originates from a Noh theatrical play of the same name. It is decorated with poppy seeds on the surface and nothing on the back, and the idiom "nothing on the back" symbolizes "something or someone that is honest and has nothing to hide" in Japanese. So, this dish embodies the New Year wish of another peaceful year and of living a sincere life. Recipe provided by: Hattori Nutrition College
Ingredients (4 servings) (1 hour)
400g

Minced chicken

1 Tbsp

Sugar-A

1 Tbsp

Soy sauce-A

2 tsp

Sake-A

8 pieces(24g)

Dried Shiitake

80g

Onion (finely chopped)

1

Egg

20g

Breadcrumbs(Panko)

2 Tbsp

Saikyo white miso

2 Tbsp

Saikyo white miso-B

1 Tbsp

Sake-B

1 tsp

Poppy seeds

1 tsp

Dried Seaweed flakes
Steps
1
Rehydrate the Shiitake with plenty of water, then squeeze out the water. Cut off the hard part of the Shiitake stems, then finely chop them. Finely chop the onions too.
2
Add half of the minced chicken and A into a pot and use some chopsticks to loosen the minced chicken while heating it up.
3
Once the minced meat is cooked and the liquid has evaporated, remove from the heat, and allow to cool.
4
Add the remaining minced meat, egg, breadcrumbs, 1., 2., 3., and the Saikyo miso to a bowl and mix well.
5
Tightly cover a rectangular baking pan with aluminum foil, pour 4. into it, and flatten the surface. Coat the surface with the mixed B and sprinkle poppy seeds on top of it.
6
Bake it in the oven at 200 degrees Celsius for 20 minutes and set aside to cool once cooked through.
7
Cut it into bite-size pieces and sprinkle dried seaweed flakes on half of it and arrange it on a plate alternately.