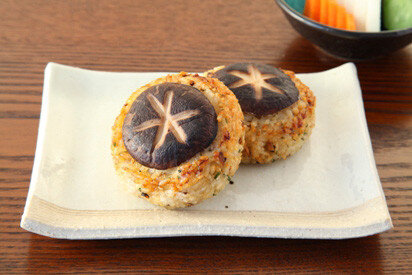 Shiitake Yaki Onigiri (Grilled Riceball)
Dry it a bit before grilling for a rice ball that is crispy on the outside and fluffy on the inside. The smoky aroma of grilled rice goes perfectly with Shiitake that is filled with Umami taste. You can also make it smaller and eat it as a snack! Recipe provided by: Hattori Nutrition College
Steps
1
Rinse the dried Shiitake with running water and rehydrate with water.
2
Divide the Shiitake into caps and stems, and finely chop the stems. Briefly stir fry the stems with sesame oil in a frying pan and season with sake and soy sauce.
3
Wash the rice and cook with A.
4
Mix the Shiitake stems and B ingredients with the cooked rice.
5
Lightly coat the insides of the Shiitake caps with potato or corn starch. Separate the rice from
6
into 8 equal parts and shape them into firm rice balls before securing the Shiitake caps onto them.
7
Spread baking paper on the tray of an oven toaster and arrange the rice balls so that the Shiitake are on the top, then bake gradually at a low temperature.
8
To make it even more fragrant, turn the rice balls over and bake at a low temperature until the rice is golden brown.