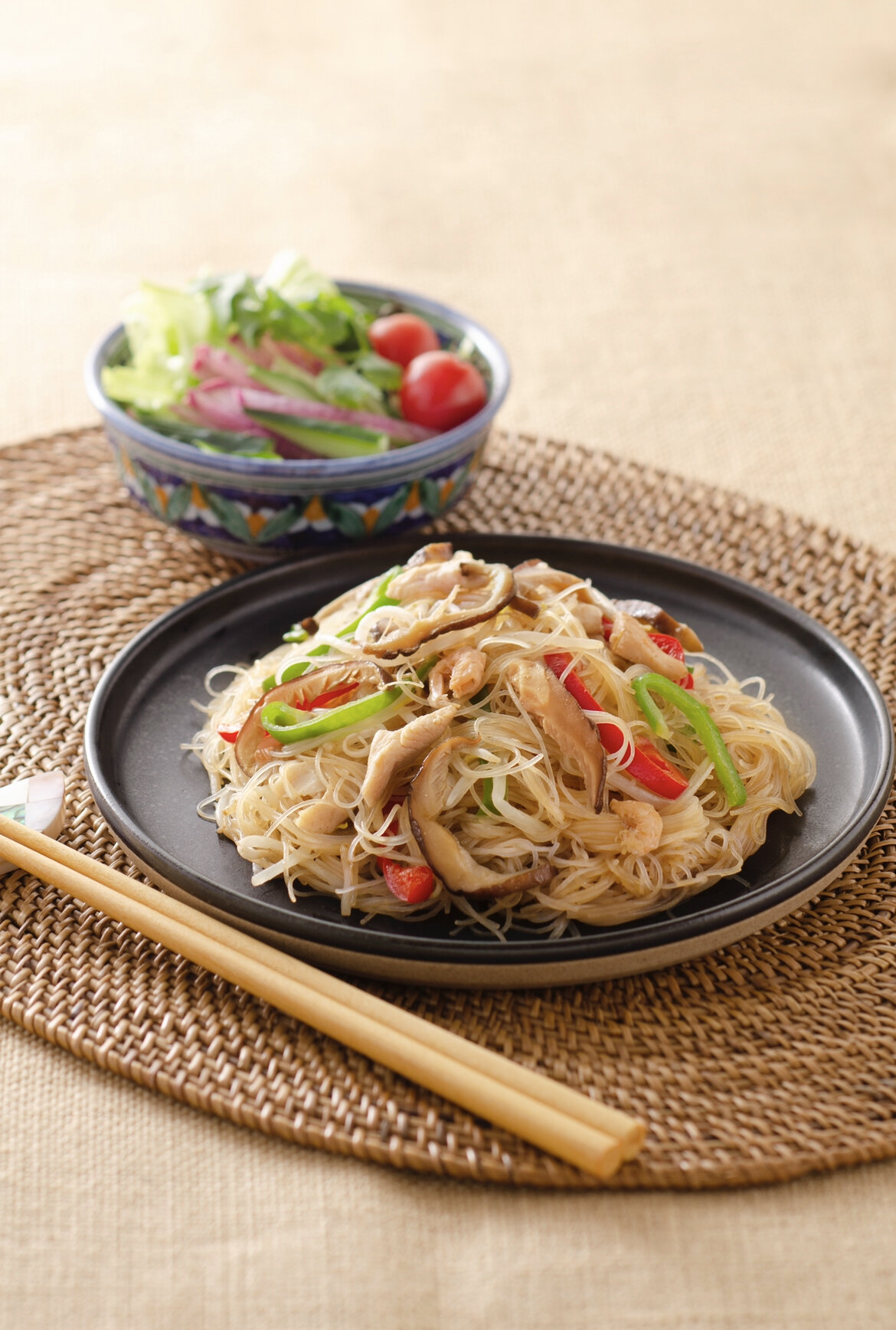 Stir-Fried Rice Noodles with Shiitake and Chicken
Rice vermicelli noodles absorb the broth from dried Shiitake and dried shrimp and become the most delicious. Vegetables should be quickly stir-fried, and enjoy the crunchy texture. You can replace chicken with pork or seafood. Recipe provided by Hattori Nutrition College.
Ingredients (4 servings)
3 pieces (12 g)

Dried Shiitake

150 g

Rice vermicelli noodles

100 g

Chicken breast meat

1 Tbsp

Sake-A

A pinch of

Salt and pepper-A

2 (80 g)

Green bell peppers

1 (40 g)

Red bell pepper

1 bag (200 g)

Bean sprouts

10 g

dried Shrimp

1 Tbsp

Neutral-flavored oil

100 ml

Shiitake soaking water-B

3 Tbsp

Liquid from rehydrating dried shrimp-B

3 Tbsp

Oyster sauce-B

1 Tbsp

Sugar-B

A pinch of

Salt and pepper-B

1 Tbsp

Sesame oil-B

to taste

Coarsely-ground black pepper
Steps
1
Rehydrate dried Shiitake and dried shrimp in water.
2
Prepare rice vermicelli noodles as indicated on package and cut into bite-sized lengths.
3
Cut chicken into small dice and rub in the ingredients marked A. Julienne the green and red bell peppers and dried Shiitake.
4
Heat the oil and saute the chicken and dried shrimp. Once the chicken is no longer pink, add first the vegetables from step 3 and then the sprouts and cook.
5
Mix together the ingredients marked with B. Add this mixture and the rice vermicelli noodles, then cook until the liquid is absorbed. Add sesame oil and coarsely-ground pepper to finish.