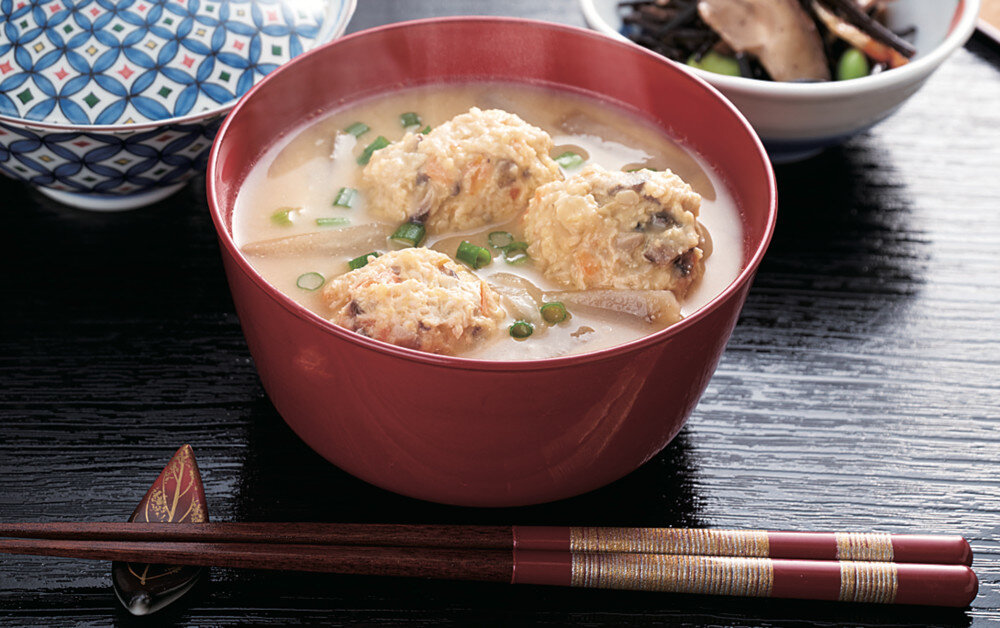 Miso soup with Shiitake and chicken meatballs
In this dish, the Guanylate of the dried Shiitake mushrooms does a wonderful job of bringing out the deep Umami taste of the chicken ♪
Ingredients (4 servings)
10 g

Dried Shiitake mushrooms (roughly chopped)

5 cm (150-200 g)

Daikon radish

20 g

Burdock (shavings)

A pinch of

scallion

1200 ml

Dashi broth (kombu, dried bonito)

45-90 g

Miso (adjust to your liking)

200 g

Minced chicken-A

10 g

Ginger (finely chopped)-A

1 tsp

Potato starch-A

1

Egg-A

A pinch of

salt-A

5 cm (40 g)

Carrot (finely chopped)-A
Steps
1
Rehydrate the dried Shiitake mushrooms, squeeze out the water, and cut into small pieces.
2
Add the contents of 1 into a bowl and mix well with the ingredients marked with A.
3
Add the Dashi broth, strips of daikon radish, and burdock shavings to a pot. Bring to a boil.
4
When the liquid has boiled, use a spoon to roll the meatballs and add them to the pot. Then, dissolve the miso.
5
Once the meatballs are cooked, place them in a bowl and garnish with scallion.