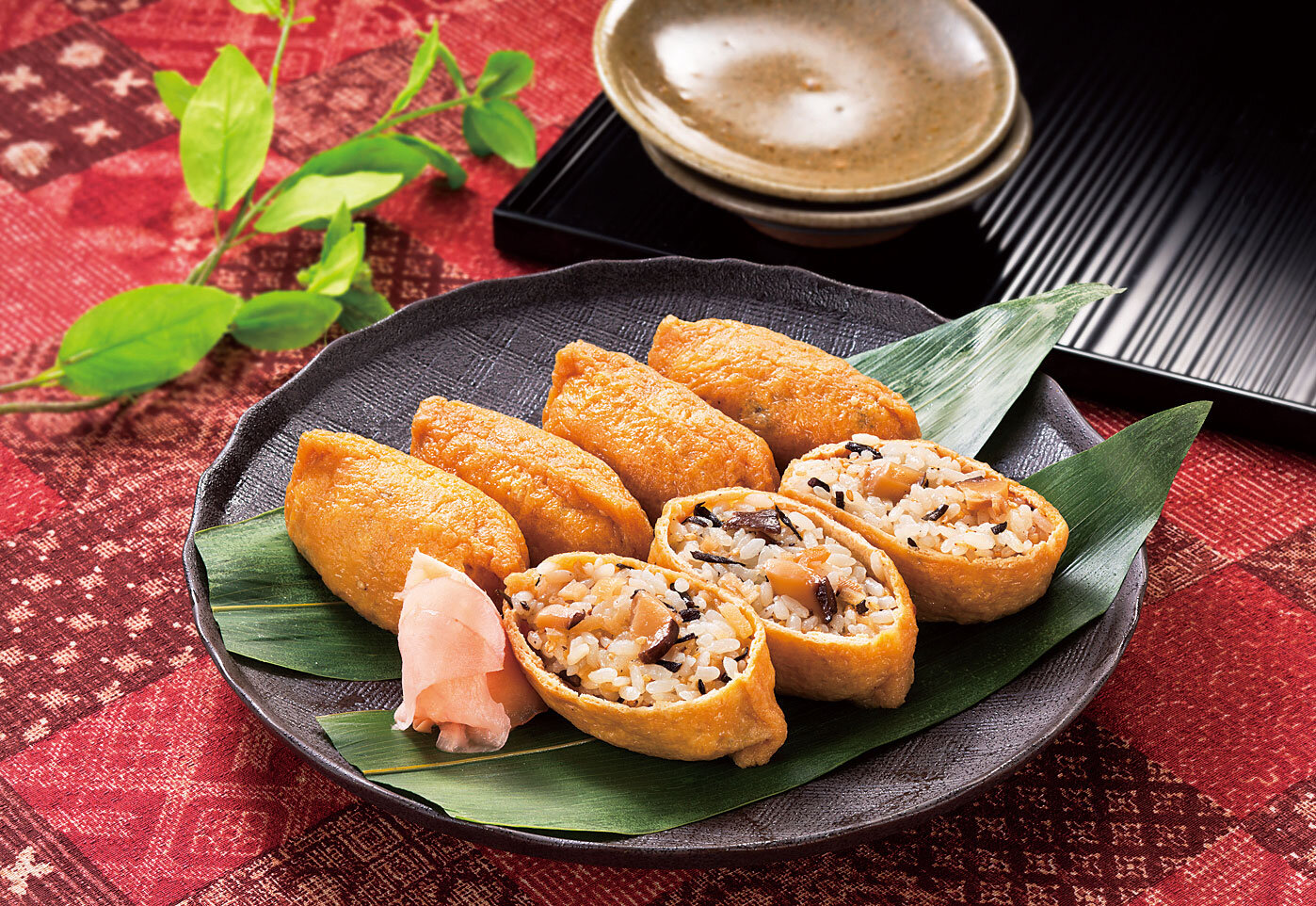 Gomoku Inari Sushi (sushi wrapped in seasoned fried tofu pockets)
"Inari Sushi" is a Japanese soul food formed with vinegared rice tucked inside little deep-fried tofu pockets. Of course, cook the rice with the soaking water from the Shiitake. Other than dried Shiitake mushrooms, we use a lot of Sun-dried ingredients, such as Dried Daikon & Carrot Strip Mix, Dried burdock, Gourd shavings, Hijiki, white sesame.
Ingredients (20 servings)
3 cups

Rice

540ml

Soup from reconstituted shiitake mushrooms plus water

6 Tbsp ( 90ml )

Sushi vinegar

10 slices

Abura-age( fried tofu, boiled to remove oil )

7g

Dried Daikon & Carrot Strip Mix( minced )

5g

Dried burdock ( minced )

5g

Gourd shavings ( minced )

6

Dried shiitake mushrooms ( minced )

3g

Hijiki ( minced )

4 Tbsp

White sesame seeds

2 Tbsp

Salad oil

3 cups ( 600ml )

Dashi broth -A

8 Tbsp

Sugar -A

50ml

Mirin -B

100ml

Soy sauce -B

1.5 cup ( 300ml )

Dashi broth -C

2 Tbsp

Sugar -C

1 Tbsp

Mirin -C

2 Tbsp

Light soy sauce -C
Steps
1
Reconstitute all dried ingredients with water. Mince everything except the hijiki.
2
Wash and drain the rice on a draining basket at least 1 hour before cooking it.
3
In the rice cooker, put in the rice and reconstituted soup and water and cook.
4
After the rice is cooked, leave it without opening the cooker for 6 min. Then put the rice on a rice tray or pad.
5
Use a wooden paddle to evenly mix in the sushi vinegar into the rice.
6
Put the abura-age in large, shallow pot, add Seasoning A, and set to medium heat for 4?5min. Then add Seasoning B and put on absorbent cover. Cook until the broth evaporates.
7
In another pot, heat the oil and stir-fry the Dried Daikon & Carrot Strip Mix, burdock, gourd shavings, shiitake mushrooms, and hijiki in this order. Add Seasoning C and cook until the broth evaporates.
8
Mix in Step 7's cooled ingredients into the sushi rice and mix in the white sesame seeds well.
9
In the dried abura-age, stuff the sushi rice filling. (For 20 servings)
10
Put the inari sushi on a tray and provide some ginger soaked in sweet vinegar if desired.