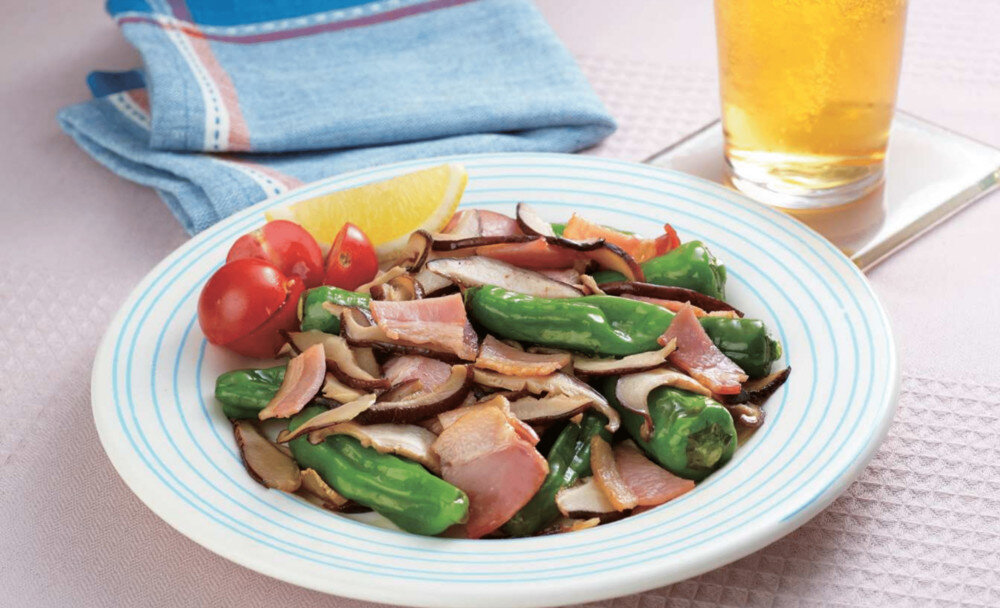 Fried Shishito and Shiitake
Japanese Shishito pepper is a slightly sweet pepper that is not hot. Sometimes, however, very hot shishito peppers are mixed in. In such cases, stir-frying them in a peperoncino style seasoning makes a wonderful appetizer that goes very well with beer.
Ingredients (2 persons)
5

Dried Shiitake

10~12

Shishito peppers

4 slices

Bacon

1

Clove garlic, minced

1 Tbsp

Olive oil

1 or 2 tsp

White wine

1 tsp

Soy sauce
Steps
1
Soak dried Shiitake in water. After rehydrating, remove the stems and slice the caps into slices.
2
Cut off the head of the shishito peppers and slit the peppers with a knife.
3
Cut bacon into bite-size pieces.
4
Heat olive oil in a frying pan, sauté garlic and when fragrant, add bacon and Shiitake.
5
Next, add the shishito peppers. When the shishito peppers have softened a little, add the white wine and saute.
6
Finally, add soy sauce to taste.