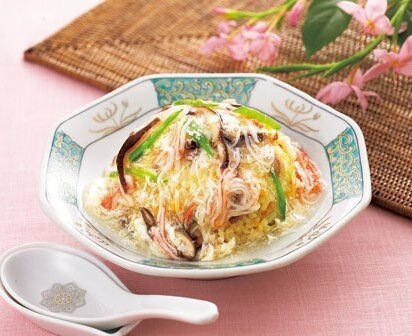 Fried Rice with Shiitake Ankake Sauce
Make your fried rice gorgeous with Shiitake Ankake Sauce!!
Ingredients (For 2 people) ( 30 minutes)
1 egg + yolk for the Ankake sauce

Egg

1/2

Spring onions

1 Tbsp

Oyster sauce

1 tsp

Soy sauce

2 Tbsp

Sesame oil

5g

●dried Shiitake

80g

●Crab stick

5

●Snow peas

200ml

●Shiitake rehydrating liquid

2 Tbsp

●Sake

1 Tbsp

●Mirin

1/3 tsp

●Salt

2

●Egg white

2 Tbsp or less

Potato or corn starch dissolved in water
Steps
1
Rehydrate the dried Shiitake and slice thinly. Tear the crab stick into small pieces and finely chop the snow peas.
2
Heat up the sesame oil in a frying pan, add the beaten eggs, and briskly fry the rice.
3
Add the finely chopped spring onions, oyster sauce, and soy sauce, fry until well done, and plate it up.
4
Add ●, except the egg whites, into the frying pan and bring the Ankake sauce to a boil. Once boiling, add the starch slurry to thicken the sauce.
5
Add the egg white to 4. and lightly stir before pouring it over the fried rice.