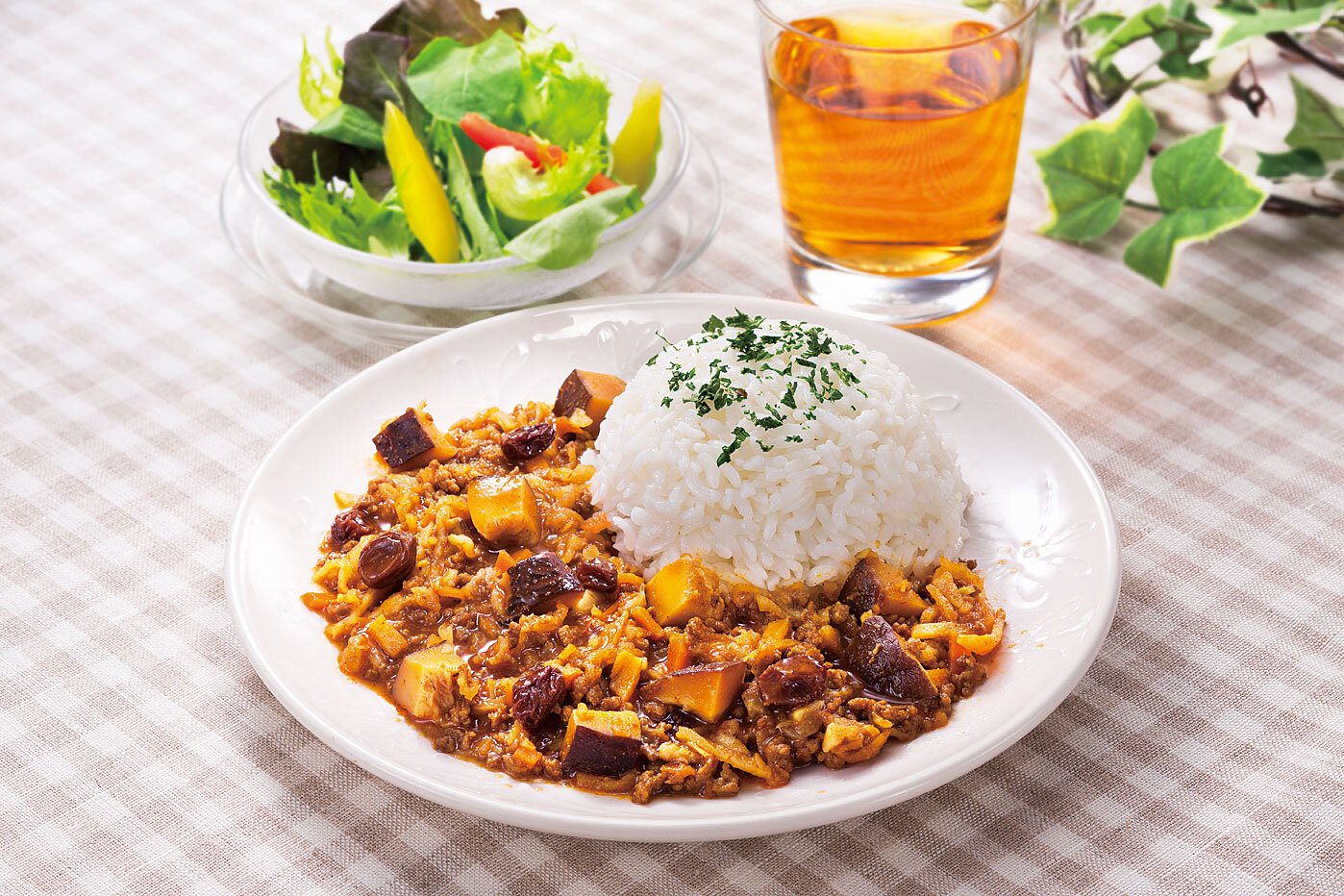 Dry Curry with Shiitake
The flavorful spice curry gets more delicious by adding Shiitake. The fragrance of Shiitake gives a deep flavor to the aroma of spices, and Guanylate, a unique characteristic of dried Shiitake, enriches the Umami taste of other ingredients. Shiitake has two kinds of aroma. 1st aroma => Smelling with noses before eating. 2nd aroma => Feeling of fragrance after eating. The 2nd aroma boosts the aromas of all spices.
Ingredients (2 servings)
2

Dried shiitake ( cut in 1cm squares )

25g

Dried Daikon & Carrot Strip Mix( minced )

2 tsp

Ginger ( minced )

10g

Raisins -A

10ml

Red wine -A

120ml

Shiitake soaking water -A

1.5 Tbsp

Ketchup -A

120g

Mixed mince meat

2 tsp

Curry powder

1 tsp

Garam masala

1 ( 4g )

Bouillon cube

1 tsp

Worcester sauce

1 Tbsp

Salad oil
Steps
1
Heat the oil in a pot at low heat, add the ginger and heat until fragrant.
2
When the ginger is fragrant, stir-fry the ground meat at medium heat.
3
When the meat turns brown, add the Shiitake, Dried Daikon & Carrot Strip Mix, curry powder, and garam masala and cook together.
4
Add Spices A and the bouillon cube and stir-fry until the flavor is full.
5
Lastly, add Worcester sauce and stir-fry for about 5 min.