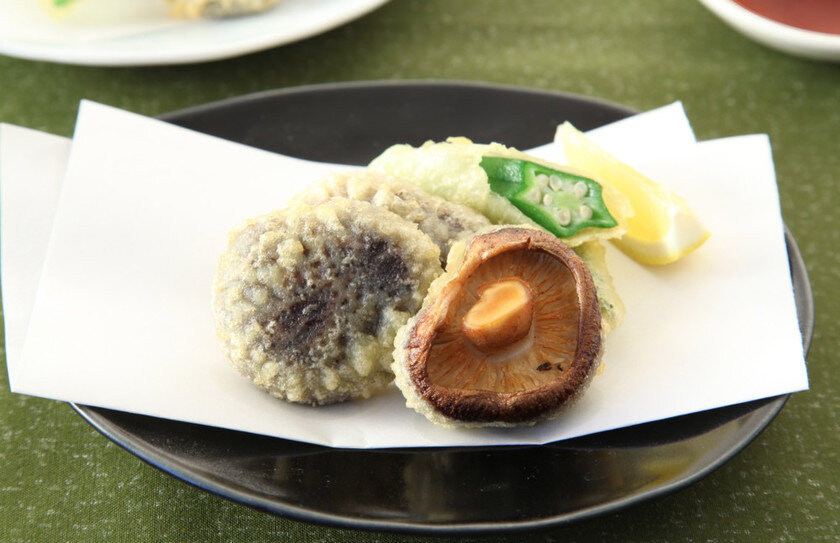 Donko Shiitake Tempura
Enjoy the Umami taste of Shiitake to its fullest!! Tempura is crispy outside and juicy inside! Deep fry for a short time only so that the Shiitake doesn't dry out. Recipe provided by: Hattori Nutrition College
Ingredients (4 servings)
10–12 pieces

Dried Shiitake

4

Okra (or as many as you like)

1/2 cup

Dashi broth

1 Tbsp

Shiitake soaking water

1 Tbsp

mirin (Japanese sweet rice wine)

1 & 1/2 Tbsp

soy sauce

1/2 cup

tempura flour-A

1/2 cup

Shiitake rehydrating liquid -A

as necessary

Oil for frying

as necessary

Lemon (garnish)
Steps
1
Rehydrate the Shiitake and cut off the stems.
2
Make the Tentsuyu (tempura dipping sauce). Pour Mirin into a pot and bring to a boil before adding soy sauce.
3
Then, add 1 Tbsp of Shiitake rehydrating liquid and Dashi broth, bring to a boil, and set it aside to cool.
5
Squeeze out the water from the Shiitake, coat with 4., and deep fry.
6
Serve on a plate with Tentsuyu, salt, and lemon wedges on the side.