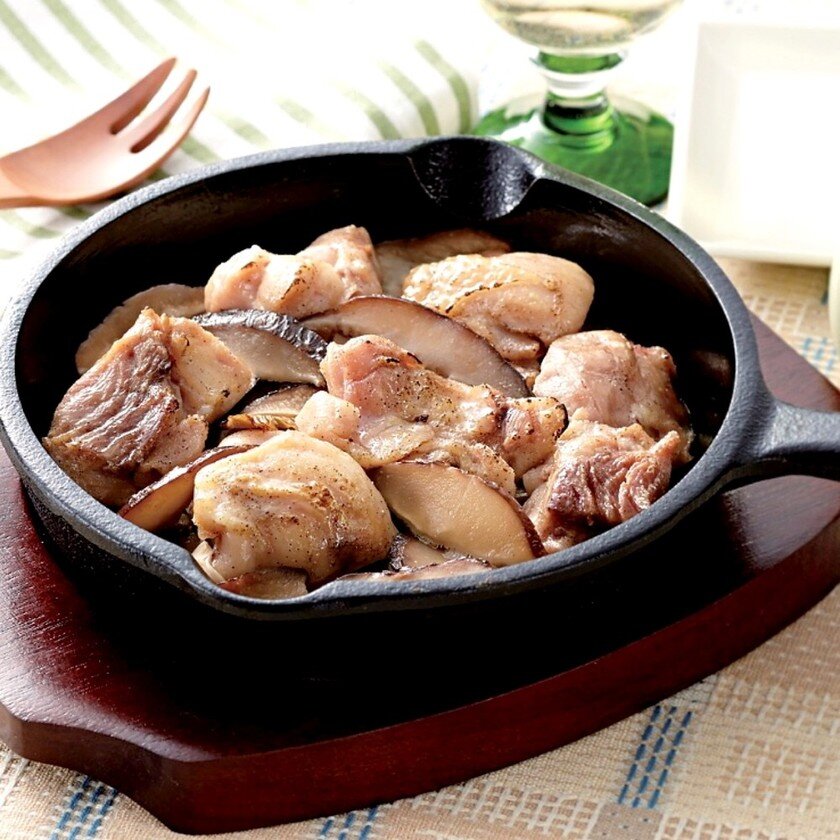 Delicious and simple! Chicken and shiitake, fragrantly grilled
Chicken becomes very tasty when grilled with dried shiitake mushrooms. It is delicious hot or cold. Three steps that turn cheap chicken into a feast! 1) [Odor removal] Sprinkle salt on chicken for 10 minutes → wash and remove wetness. 2) [Umami boost] Mix the rehydrated dried Shiitake well with the chicken and sit for 10 minutes. 3) [Grill well] Take out Shiitake early to prevent them from burning, and grill the chicken skin thoroughly. The dried Shiitake, not the fresh ones, are full of Guanylate and make the chicken Umami rich. Carefully removing the yellow fat from the chicken will further remove the odor and make it tastier. It's a great accompaniment to a beer!
Ingredients (Serves 1)
2

Dried Shiitake

150g

Chicken thigh

1 tsp

salt ( to remove odor )

1/4-1/2 tsp

salt ( for flavoring )

( as needed )

Vegetable oil

to taste

Black pepper
Steps
1
Rehydrate shiitake and cut into thick slices.
2
Cut chicken into bite-size pieces and massage 1 tsp of salt into the cubes. Set aside for 10 minutes (to remove off flavors).
3
Wash the salt off the chicken and dry with a paper towel.
4
Add salt and pepper to the chicken, add the shiitake, and let sit for 10 minutes to blend flavors.
5
Fry the chicken and shiitake in a fry pan with heated vegetable oil.
6
Remove the shiitake first once both sides begin to look cooked.
7
When the chicken skin becomes crispy, remove from heat and serve with shiitake.