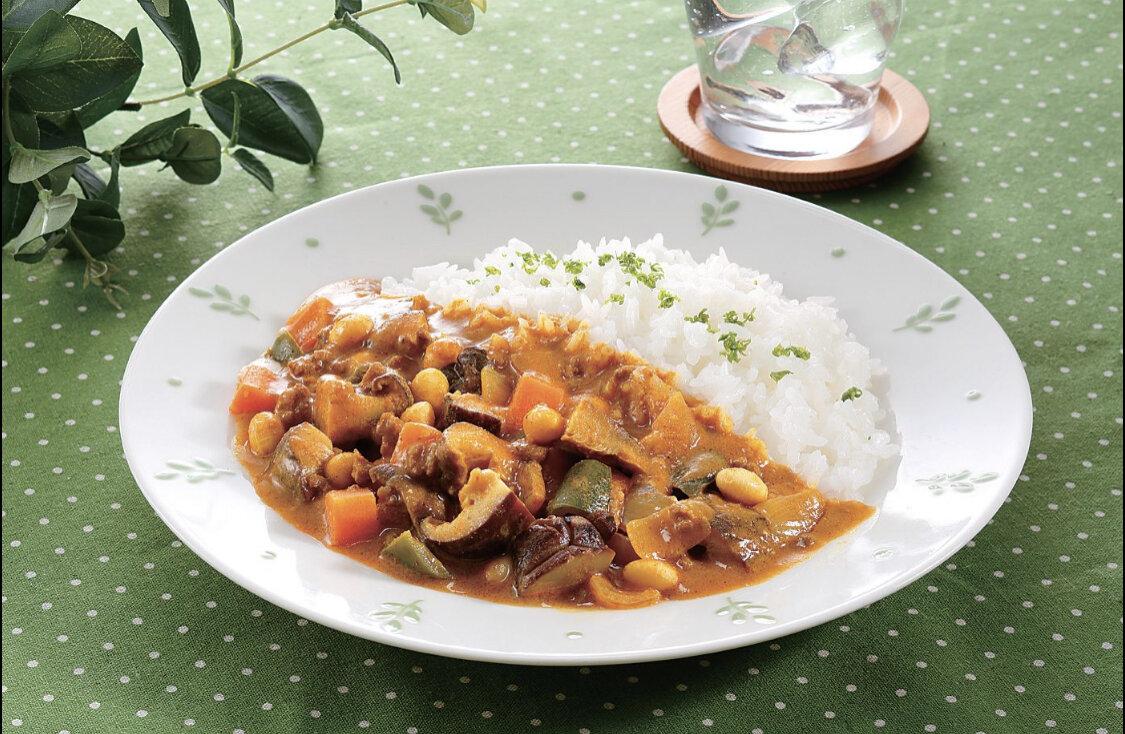 Curry with Yogurt Soybeans and Shiitake
Have you ever tried rehydrating dried Shiitake in yogurt? Unlike rehydrating Shiitake in water, the water-soluble nutrients (potassium, B vitamins) and Umami do not dissolve in the water but instead absorb the whey in the yogurt, resulting in a new dimension of flavor and texture. The first thing that will surprise you about rehydrating Shiitake in yogurt is the difference in texture. The Shiitake become thick and moist and have a unique crunchy texture. Put the dried Shiitake and yogurt in a ziplock and refrigerate for 8 hours. Simple and easy. I also dry roasted soybeans in a frying pan first and then put them into the yogurt with dried Shiitake to make a dry foods curry that tasted as fancy as a restaurant. The trick is to snap off the stem of the dried Shiitake first and then soak them in yogurt. Water is absorbed from the center of the Shiitake's umbrella, resulting in a fluffy texture.
Ingredients (2 servings)
50g

Soybeans

3-5

Dried Shiitake

200g

Plain yogurt

1 Tbsp

Salad oil

1 piece

Garlic ( minced )

1 piece

Ginger ( minced )

1 ( 200g )

Onion

1/2 ( 70g )

Carrot

1 ( 30g )

Bell pepper

100g

Mixed ground meat

3 Tbsp

Curry powder -A

3 Tbsp

Ketchup -A

3 Tbsp

Worcester sauce -A

1 ( 4g )

Soup bouillon cube -A

150ml

Water -A
Steps
1
Heat the soybeans in a frying pan without water until they turn slightly brown. Remove the stems of the shiitake.
2
Put yogurt and Step 1 ingredients in a container, and mix well. Put on a cover and refrigerate for at least 8 hours.
3
Cut the reconstituted Shiitake, onion, carrot, and bell pepper into 1cm squares. Mince the garlic and ginger.
4
Spread salad oil in the frying pan and put in garlic and ginger and on low heat. When it is fragrant, set to medium heat and add the onion, carrot, and bell pepper.
5
When the ingredients soften, add the mixed ground meat and stir-fry. When the color changes, add Step 2's yogurt and soybeans, shiitake, and Seasoning A. Mix well and stir-fry for 3 min.
6
Put rice on the plate and cover with the Step 5 Curry. Top with parsley as desired.