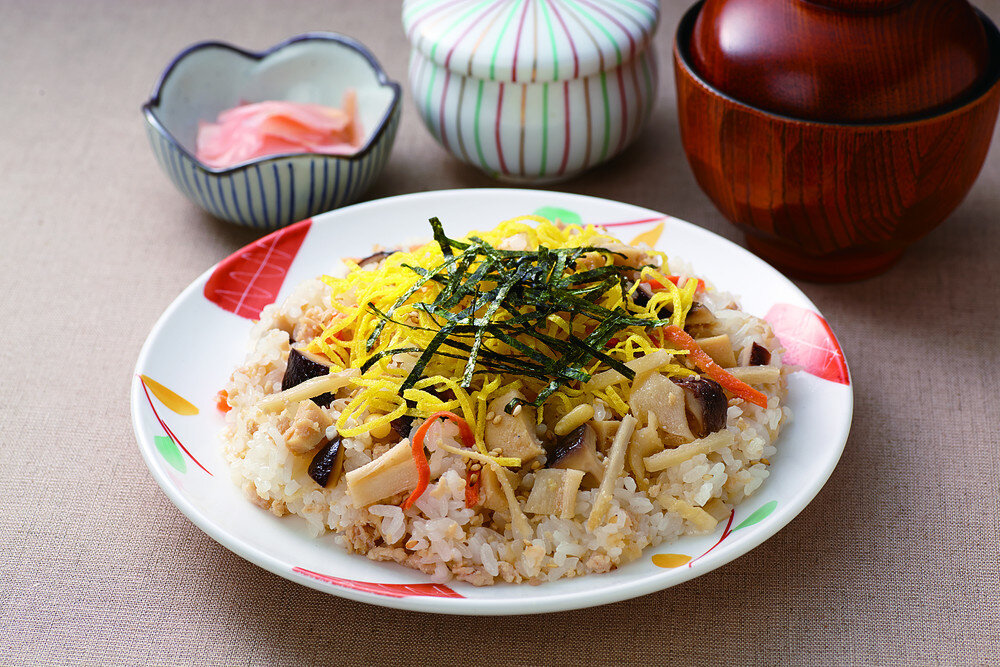 Chirashi-zushi with Shiitake
"Chirashi Sushi" is served on a happy day or party in Japan. This is made of sushi rice with a variety of sun-dried foods mixed in, and toppings sprinkled over the top. All dried foods are pure and simple, so the finished chirashizushi has a pure flavor.
Ingredients (4 servings)
3 go ( 180ml x 3 )

Rice

3 tsp

Sake

3cm square

1 Kombu kelp

10g

Koya (Freeze-dried) tofu

4 (12~20g)

Dried Shiitake

10g

Kiriboshi daikon( Dried Daikon & Carrot Strip Mix )

5g

Dried burdock

4g

Kanpyo (Dried Gourd Strips)

100g

Chicken mince

7g

Pine nuts

6 Tbsp

Sushi vinegar

1 Tbsp

Sesame

suitable amount

Toasted nori laver

suitable amount

Thin fried-egg strips

1/4 tsp ( less than )

Salt -A

1 Tbsp

Soy sauce -A

1 Tbsp

Mirin -A

1 Tbsp

Sugar -A

1 Tbsp

Sake -A

1/3 piece

Grated ginger -A
Steps
1
Wash the rice and put it on a draining basket for 30 min.
2
In the rice cooker, put in the sake and kombu kelp and add water to cook slightly hard rice.
3
Reconstitute Koya tofu and Shiitake with water and squeeze out the water. Cut into squares.
4
Use water to reconstitute Dried Daikon & Carrot Strip Mix, dried burdock, and gourd shavings. Squeeze out the water and cut into bite-size pieces.
5
In the pot, put in the Step 3 and 4 ingredients and the chicken mince. Add Seasoning A and pine nuts and heat. Simmer until the water evaporates.
6
Add sushi vinegar to the freshly cooked rice, use an uchiwa fan to fan the rice. Use a rice paddle to mix.
7
Add the Step 6 and 5 ingredients, and finish by sprinkling sesame seeds, toasted nori laver, and thin fried-egg strips.