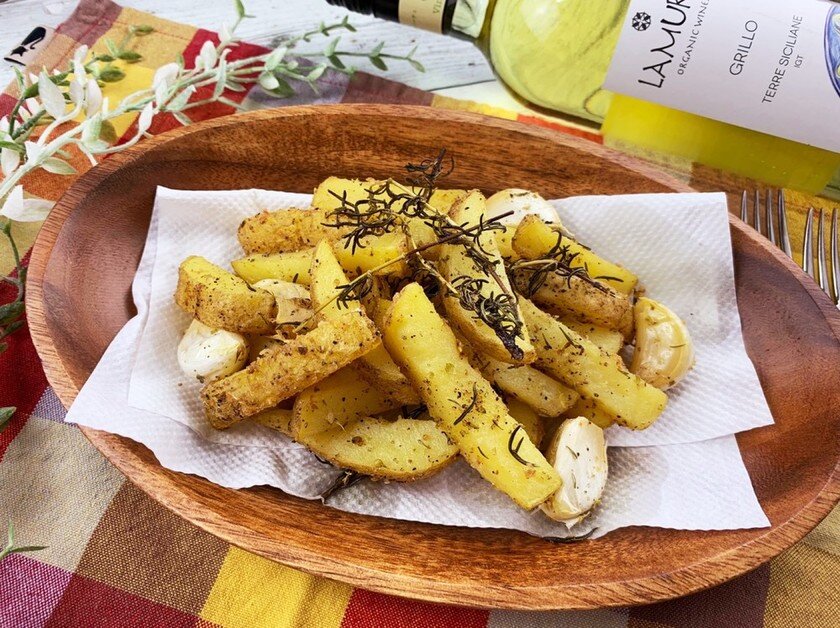 Tuscan Fries with Shiitake powder
Tuscan-style fries with herbs. The guanylic acid in dried Shiitake mushrooms, which gives them their characteristic Umami taste, has the effect of strengthening the Umami taste of the other ingredients, and means you can reduce greatly the amount of salt used. Zen monks found Forest-grown Shiitake is the best Umami enhancer for Vegan Cuisine more than 1000-years ago in Japan. The drying and rehydrating process of Shiitake produces "Guanylate," a natural Umami energizer. Guanylate amplifies the Umami taste of all foods. Unlike Dried Porcini, Shiitake can enhance the Umami taste of your cooking without adding a mushroom flavor. Tips and tricks: Adding a little water to Shiitake powder and waiting 10 minutes before using, maximizes 3x the Umami Flavor! One dry Tbsp equals one pre-soaked tsp, the same Umami boosting power. The drying and rehydrating process of Shiitake produces "Guanylate," a natural Umami energizer. Guanylate amplifies the Umami taste of all foods. Forest-grown Japanese Shiitake Powder 40g, Natural Umami Booster
Ingredients (2 people) (50 mins)
2

medium potatoes (Russet)

1 Tbsp

grated dried Shiitake (Shiitake powder)-A

400 ml

water-A

1 Tbsp

wheat flour-B

1 Tbsp

dried grated Shiitake (Shiitake powder)-B

5 sprigs

fresh rosemary

1/4 tsp

dried thyme-C

1/4 tsp

dried oregano-C

1/4 tsp

salt-C

1/2 tsp

coarsely ground pepper-C

As needed

salad oil or olive oil for deep frying

1 cloves

separated garlic bulb, with skin still on
Steps
1
Grate the dried Shiitake into a powder. Prick holes in the garlic cloves with a toothpick.
2
Cut the potatoes into rod shapes and place in A. Stir well before soaking for ten minutes.
3
Wipe the water thoroughly from the potato rods with kitchen roll. Sprinkle the B on the potato rods and mix well.
4
Put the potato rods, garlic, and rosemary into a frying pan, pour the olive oil on about 2/3 of the potatoes, and put on a high heat.
5
When the oil starts to bubble, after 5 minutes turn the heat to medium and cook until the potatoes turn a golden brown color, turning continuously.
6
Fry until the potatoes make a kind of rustling sound, then drain in a colander. The lovely-smelling oil can be kept and used again for another dish.
7
While still hot, sprinkle all over with C.