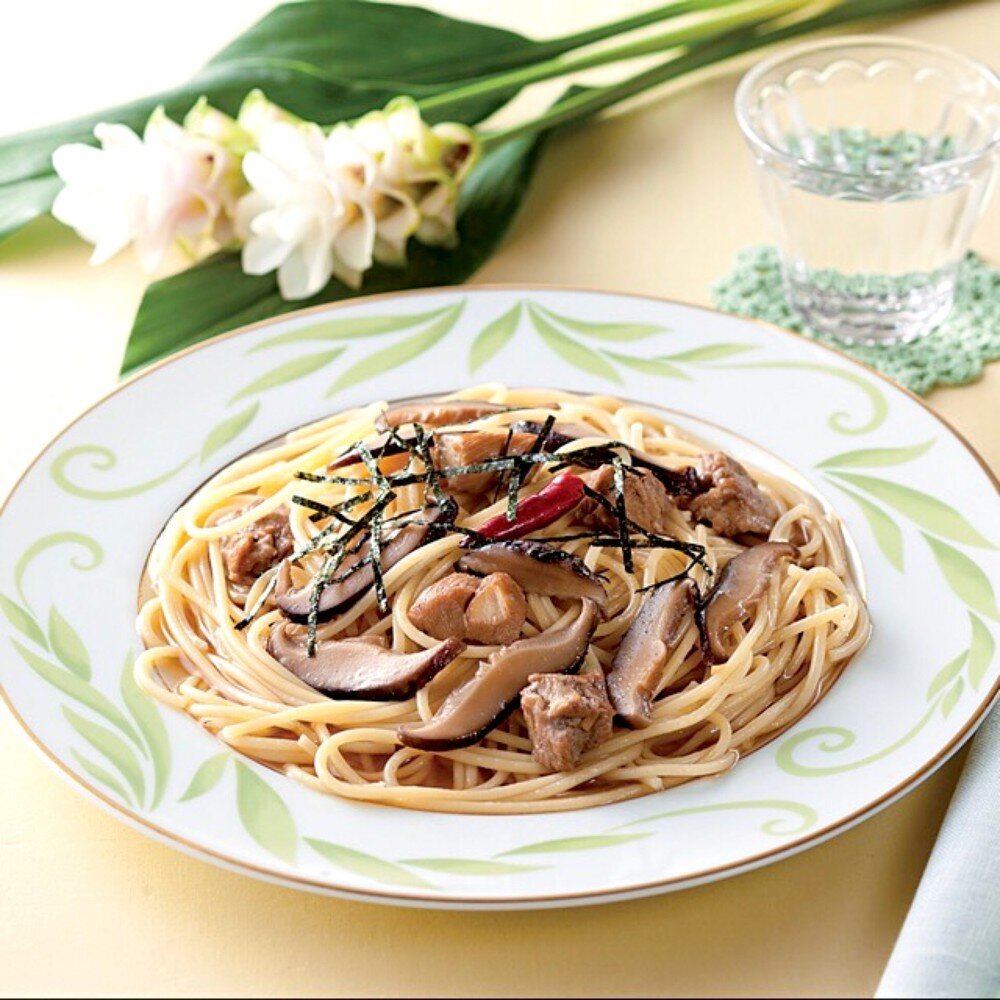 Tasty Spaghetti with Simmered Shiitake ( Pepperoncini style )
This recipe features to use simmered Shiitake as a natural Umami booster. A friend told me that spaghetti tastes extra good with simmered Shiitake. When I tried making it myself, I couldn't believe how delicious it was. When simmered, Shiitake lose their pungent aroma, and it enhances their Umami, so cooking them this way will make them a hit even with kids who normally dislike Shiitake. Drain the spaghetti one minute earlier than you normally would, throw it into a frying pan, and soak up some simmered Shiitake's broth.
Ingredients (2 servings)
60g ( 3 mushrooms )

Shiitake Mushrooms and Chicken Stock Shiitake

8 tbsps

Broth from Shiitake Mushrooms and Chicken Stewed in Stock

200g

Spaghetti

1/2 tbsp

Minced garlic

1

Chili pepper

1/2 tsp

Salt

As needed

Olive oil

A dash

Shredded nori
Steps
1
Slice the shiitake mushrooms from the Shiitake Mushrooms and Chicken Stewed in Stock.
2
Saute the minced garlic and chili pepper in olive oil in a frying pan to bring out their aroma.
3
Once the garlic has turned golden brown, add the Shiitake Mushrooms and Chicken Stock and saute for one to two minutes.
4
Boil the spaghetti for one minute less than the recommended time.
5
Add the broth and the boiled spaghetti to the frying pan and saute for about a minute, stirring the broth. Add salt to taste.
6
Arrange on a plate and sprinkle with shredded nori.