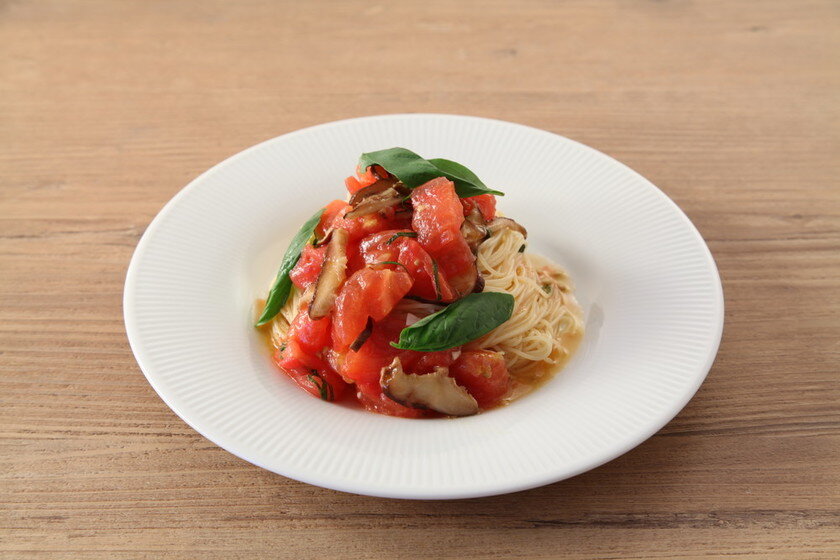 Shiitake & Tomato Capellini
This is a refreshing cold pasta that is loaded with Shiitake! It's a wonderful time to drink wine slowly and wait for the main course with cold pasta. Cappellini is a very thin pasta. It spreads the flavor of Shiitake and tomatoes in a nice way. The right amount of salt for boiling pasta is 1–1.3%. (Example: About 40g of salt for 3L water)
Steps
1
Rehydrate the Shiitake with lots of water, then remove the stems and cut into thin slices. Boil the tomatoes and remove the skins, then cut into bite-sized pieces.
2
Add the olive oil, garlic, and Shiitake to a frying pan, then season with salt (not included in ingredients) and stir fry. Set aside to cool.
3
Combine the tomatoes from 1. with 2. and ● in a bowl and leave to cool in the fridge.
4
Add salt (not included in ingredients) to a large pot of water and cook the Capellini for 30 seconds longer than the instructions on the packaging.
5
Once al dente, lightly rinse the pasta with running water and cool with ice water.
6
Drain 5. thoroughly, then add the sauce from 3. and julienned basil, and toss well.
7
Serve on a plate and garnish with basil.