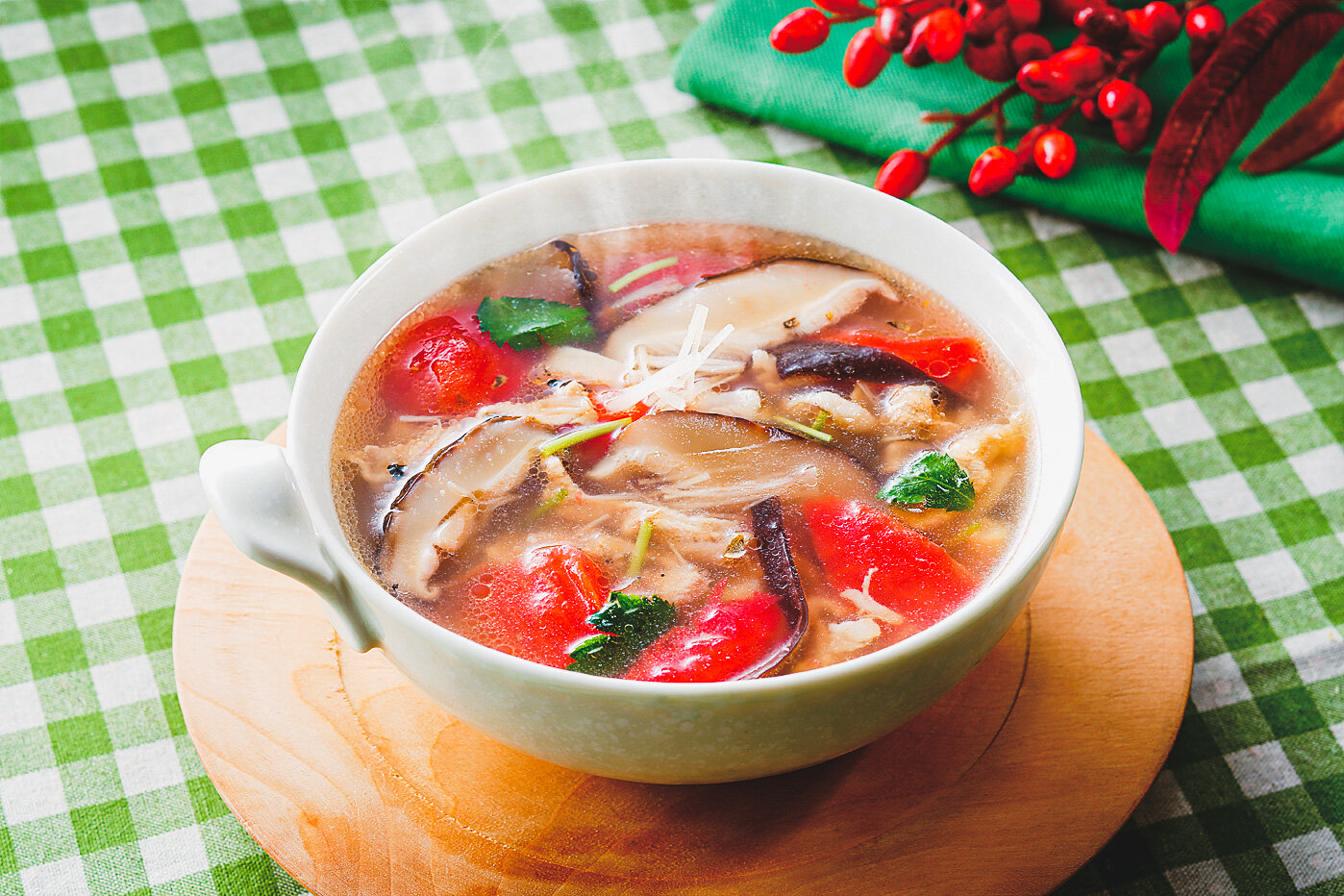 Shiitake, Scallops and Tomato Soup
The combination of Shiitake, tomatoes, and scallops is Umami magic! Guanylate specific to dried Shiitake deepens the overall Umami of the soup.
Ingredients (4 servings)
5 ( 25g )

Dried Shiitake

4 ( 10g )

Dried scallops

2g

Jew's ear

150g

Pork leg

1 Tbsp

Potato starch

1 ( 150g )

Tomato

1 Tbsp

Salad oil

600ml

Soup from reconstituted shiitake mushrooms and scallop

2 Tbsp

Sake

1 Tbsp

Soy sauce

1 tsp

Salt

A dash of

Black pepper

A dash of

Ginger needles

A dash of

Mitsba (Japanese wild parsley)
Steps
1
In a bowl, put in the Shiitake, scallops, and 1 liter of water, and reconstitute for 5 hours in the refrigerator.
2
Reconstitute the Jew's ear separately in water.
3
Cut the pork leg in thin slices 1cm wide and sprinkle with potato starch.
5
Slice the reconstituted Shiitake and Jew's ear, and cut the scallop in small pieces.
6
Spread salad oil in the pot, spread around the pork and stir-fry on medium heat.
7
When the meat turns brown, add the Step 5 ingredients, the broth from the reconstituted shiitake and scallops, sake, and soy sauce, and set to high heat.
8
When it boils, add large cut pieces of the boiled tomato and simmer on medium heat for 5 min.
9
Add salt and black pepper as desired.
10
For the topping, add ginger threads and Japanese honewort.