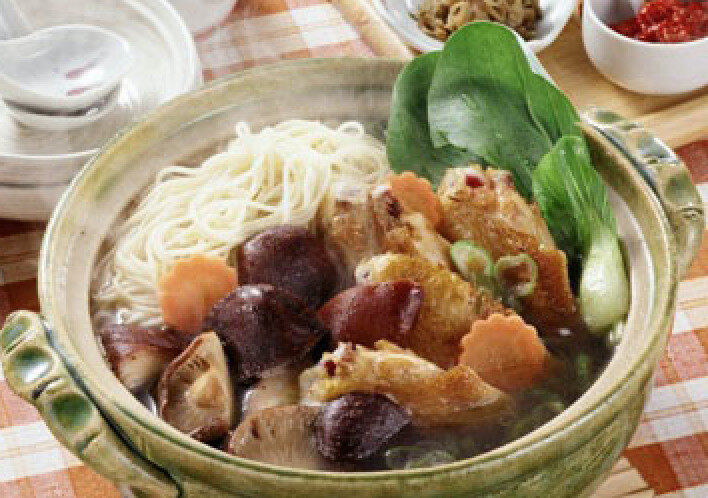 Shiitake Ramen Hotpot
A dish for a chilly day! Warm yourself with a hearty hotpot! Dried Shiitake will enrich the flavor of bone-in chicken.
Ingredients (2 servings)
5 pieces

Dried Shiitake-A

1 ×10cm piece

Kombu (dried kelp)-A

1,000 ml

Water-A

to taste

Thinly-sliced ginger-A

as desired

Carrots, as much-A

1 1/2 Tbsp

Soy sauce-A

10 pieces

Chicken wings

to taste

Salt and pepper

as needed

Neutral-flavored oil

2

Spring onions/scallions, cut small

2 heads

Bok choy

2 servings

Ramen noodles

to taste

Sesame oil + ponzu-B

amply and to taste

Julienned leeks-B

to taste

Zha cai (pickled mustard plant stem), finely chopped-B

to taste

La-yu and/or doubanjiang (broad bean chili paste)-B

to taste

Chinese chives, cabbage, etc
Steps
1
Rehydrate dried Shiitake in water, cut off stems, and slice in half.
2
Season chicken wings with salt and pepper and allow to rest for about ten minutes.
3
Heat neutral oil in a frying pan, then fry the chicken wings until thoroughly browned.
4
Place all ingredients marked with A in a pot.
5
Heat pot until it begins to simmer, then add chicken wings and continue simmering until the ingredients are tender.
6
Lightly fry the spring onions/scallions in a frying pan using the remaining oil, then add to pot.
7
Add bok choy, ramen, and other desired ingredients such as Chinese chives, cabbage, etc. to pot.
8
Serve with condiments marked with B, such as ponzu with sesame oil or soy sauce.