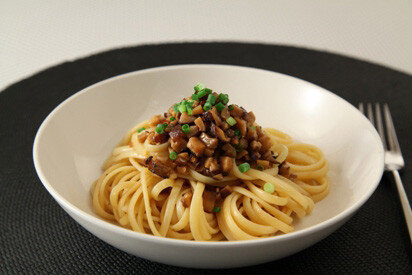 Shiitake, butter, and soy sauce Japanese-style pasta
Shiitake, butter, and soy sauce Japanese-style pasta! Linguine goes well with the rich sauce thickened with Shiitake soaking water. Shiitake and butter soy sauce flavors are a perfect match. Recipe provided by: Hattori Nutrition College
Ingredients (2 servings)
160 g

Linguine

6

dried Shiitake

1.5 Tbsp

Olive oil

to taste

Red chili pepper (chopped)

1 clove (4 g)

Garlic (minced)

3 cm (8 g)

Japanese leek (minced)

1/2 Tbsp

Sake

2 Tbsp

Soy sauce

2.5 Tbsp

Mirin (Japanese sweet rice wine)

10 g

Butter

30 ml

Shiitake hydrating liquid

50 ml

Chicken stock

1 pinch

Salt

to taste

Pepper

for garnish

Green onions (chopped)
Steps
1
Rehydrate the dried Shiitake in water, then chop it into a rough mince. The leftover rehydrating liquid from the dried Shiitake is used in the recipe, so do not discard it.
2
Heat the olive oil in a frying pan, add the garlic and sauté until fragrant, then add the chili pepper and briefly mix.
3
Add the Shiitake to the pan and sauté it, then add the Japanese leek. Next, add the seasoning in the following order: sake, soy sauce, mirin, butter, Shiitake hydrating liquid, chicken stock.
4
When the liquid has reduced by approximately half, season with salt and pepper.
5
Add some salt (not included in the ingredients) to a large pot of water, then add your linguine when it comes to a boil and cook according to the package instructions.
6
When the pasta is done, drain it, add to the fry pan from step 2 and mix with the sauce, then plate the finished dish and garnish with green onions.