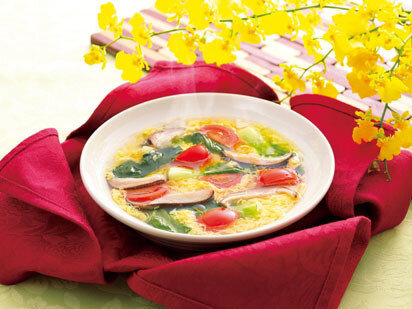 Shiitake & Egg Chinese-style Soup
Shiitake, tomatoes, and eggs are a perfect match. Shiitake soup stock is also used to create a savory, happy flavor. Please give it a try!
Ingredients (4 servings) (20 minutes)
2

Dried Shiitake (medium)

10

Cherry tomatoes

1/4 bunch

Bok choy

800ml

Shiitake soaking water + Water

2 Tbsp or less

Chicken stock powder

1.5 tsp

Oyster sauce

1/2 Tbsp

Potato or corn starch dissolved in water

3

Eggs

A pinch of

Some sesame oil
Steps
1
Rehydrate the dried Shiitake and slice them, cut the cherry tomatoes into quarters, and cut the bok choy into bite-size pieces.
2
Add Shiitake soaking water + water and Shiitake into a pot and bring to a boil before adding the chicken stock powder.
3
Adjust the taste with salt & pepper and oyster sauce. Then, thicken the sauce with the starch slurry.
4
Add the cherry tomatoes, bok choy, and beaten eggs, and finish off with a few drops of sesame oil.