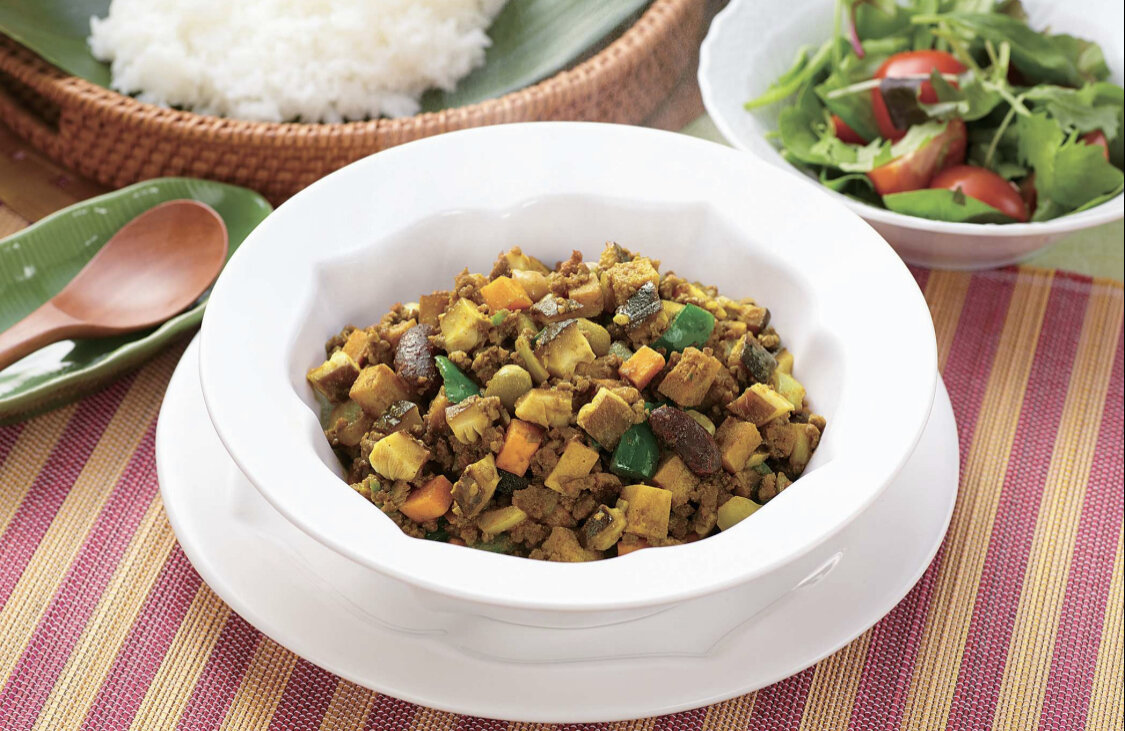 Shiitake and Koya Dry Curry
This is a dry curry with dried Shiitake and Koya tofu (freeze-dried tofu). We all know that Shiitake have many health benefits, such as lowering blood pressure. In addition, curcumin, a component of turmeric, a famous curry spice, is said to inhibit abnormal proteins that cause Alzheimer's disease. In addition, soybeans and tofu contain a large amount of lecithin, which helps absorb curcumin. Dry foods curry is not only delicious but also healthy. The flavorful spice curry gets a more delicious taste by adding Shiitake. The fragrance of Shiitake gives a deep flavor to the aroma of spices, and Guanylate, which is a unique characteristic of dried Shiitake, enriches the taste of other ingredients.
Ingredients (4 servings)
25g

Koya ( Freeze-dried ) tofu( minced )

5 ( 20g )

Dried Shiitake ( minced )

1/2 ( 70g )

Carrot ( minced )

1 ( 40g )

Bell pepper ( minced )

1/2 ( 80g )

Onion ( minced )

2 tsp

Garlic ( minced )

2 tsp

Ginger ( minced )

Half can

Mixed beans ( boiled )

200g

Mixed ground meat or chicken mince

2 Tbsp

Olive oil

3 Tbsp

Worcester sauce -A

3 Tbsp

Ketchup -A

2 Tbsp

Curry powder -A
Steps
1
Use water to reconstitute Koya (Freeze-dried) tofu and Shiitake, squeeze out some of the water, then mince.
2
Put olive oil in the frying pan, and stir-fry the garlic and ginger on medium heat.
3
When there is aroma, cook the meat until it is heated. Then add the carrot, bell pepper, and onion.
4
When the vegetables become soft, add the step 1 ingredients and stir-fry so the water splatters out.
5
Add the mixed beans and flavor with Spices A to finish.
6
Any kind of mixed beans would be delicious.