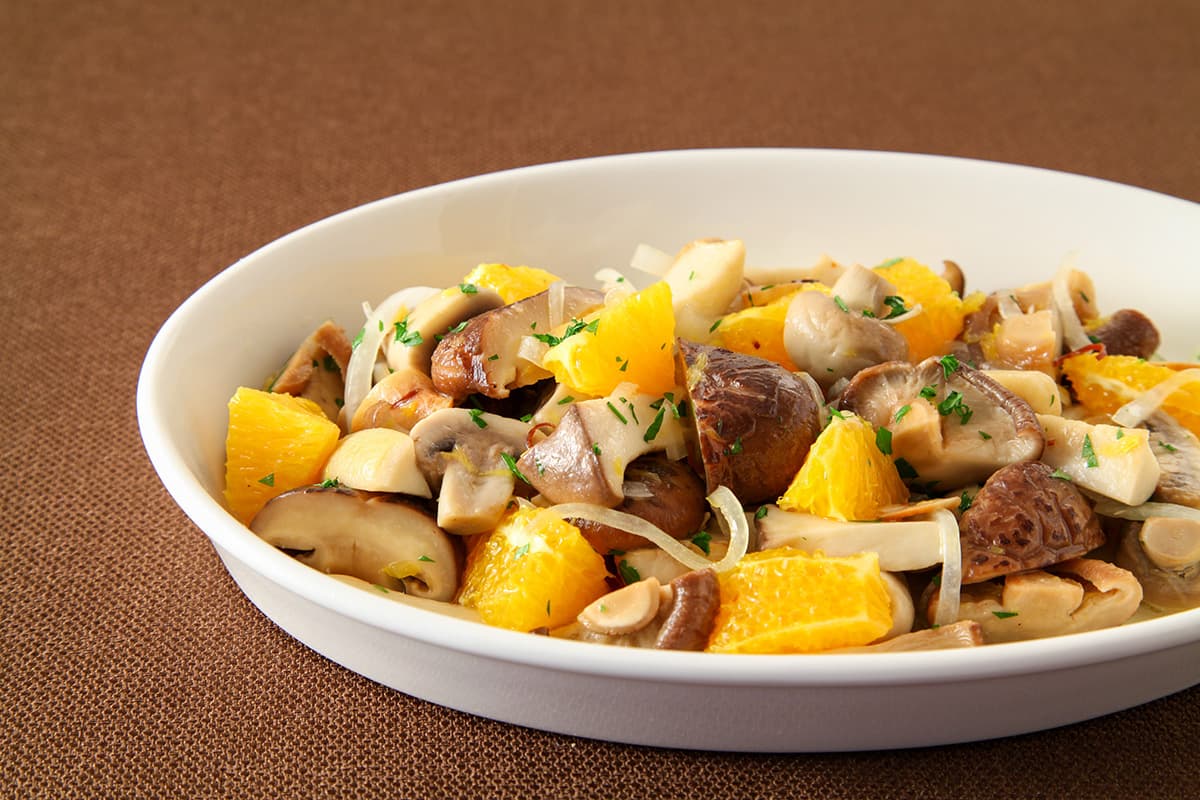 Marinated Mushroom & Orange
Lots of mushrooms and oranges taste great together! Refreshing and revitalizing aftertaste! This marinade uses a lot of mushrooms, so moisture will be extracted while marinating. By marinating it with an amount that you might think would be a bit too rich, it will end up just right when it finishes marinating. If you want to use fresh Shiitake, you can add Shiitake powder to make the Umami taste much richer thanks to the effect of Guanylate. Recipe provided by: Hattori Nutrition College
Ingredients (4 servings)
8

Dried Shiitake

1 pack(64g)

Button mushrooms

1 pack (100g)

King oyster mushrooms

1 clove

Garlic

1

Red chili (thinly sliced)

50ml

Olive oil

1 (200g)

Orange

1/2

Onion

2 Tbsp

White wine vinegar -A

1 tsp

Sugar -A

1/2 tsp

Salt -A

as necessary

Italian parsley (finely chopped)
Steps
1
Rinse the dried Shiitake with flowing water, rehydrate with water, and cut in half.
2
Thinly slice the mushrooms, cut the king oyster mushrooms in half, then cut into 4–6 equal parts.
3
Thinly slice the garlic and onion. Peel the oranges and cut them into bite-size pieces.
4
Insert olive oil, garlic, and red chili into a frying pan and stir fry until the garlic is fragrant.
5
Add the onions and stir fry, then add A and turn off the heat before transferring everything to a bowl and adding the oranges.
6
Let it cool down, then add the Italian parsley and mix. Put inside the fridge and let it marinate.