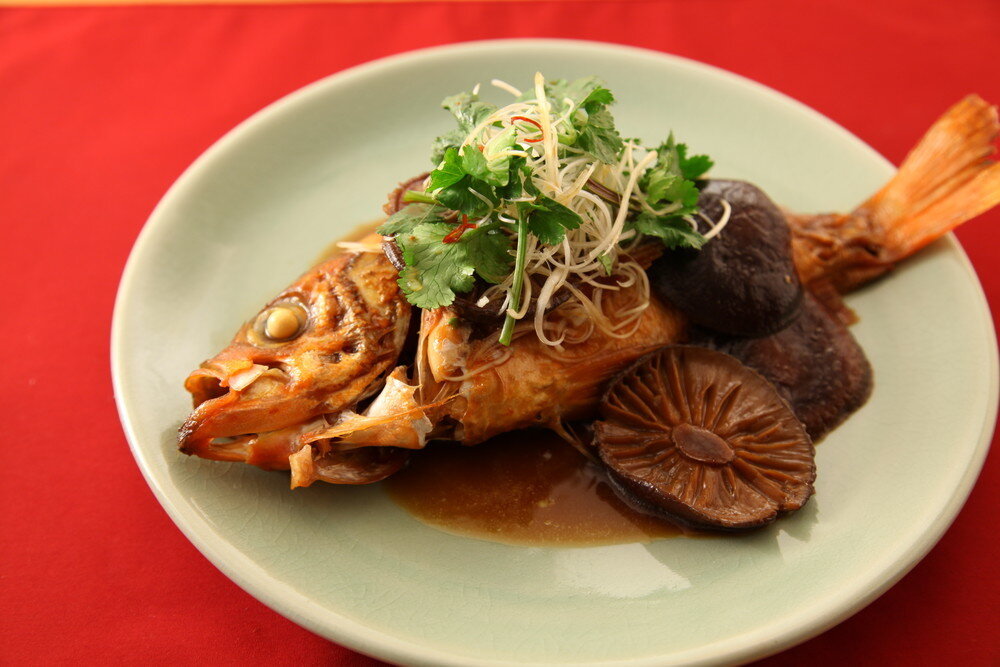 Ethnic-style fish stew
In this dish, the Guanlyate of the dried Shiitake mushrooms beautifully enrichens the Umami taste of the fish. The ethnic-style flavor of this fish stew is a fantastic treat. When adding the fish sauce (nam pla) to the dissolved granulated sugar, do so all at once. Be careful, as adding too much color will make the soup bitter. Also, as this is a hot dish, be careful not to burn yourself. Recipe provided by Hattori Nutrition College
Ingredients (4 servings)
2

Black rockfish

1 clove

Garlic (sliced)

12

dried Shiitake mushrooms

as needed

flour

2 Tbsp

Sesame oil

4 Tbsp

Granulated sugar

4 Tbsp

Fish sauce (nam pla)

120 ml

dried Shiitake Dashi broth

300 ml

Water

1

Red pepper (cut into small pieces)

1

Green onion

to taste

Coriander
Steps
1
Rehydrate the dried Shiitake mushrooms with plenty of water. Cut green onions into fine strips 4 cm in length.
2
Remove the scales, internal organs, and gills from the rockfish. Wash with water.
3
Sprinkle a thin layer of flour on the rockfish. Heat the sesame oil in a pan, add the rockfish and garlic, and brown both sides of the fish. Temporarily remove the rockfish to a vat or other container.
4
Wash the pan and add granulated sugar, dissolving it slowly over low heat.
5
When the sugar turns golden brown, add the fish sauce, Shiitake Dashi broth, and water.
6
To 4, add the contents 3 as well as the red peppers and shiitake mushrooms. Cover with a lid (or drop lid), and simmer on medium heat for about 10 minutes.
7
After about 10 minutes, use a spoon or similar implement to ladle the soup on the rockfish and soak in the flavor.
8
Transfer to a dish and garnish as you like with green onions and coriander from 1.