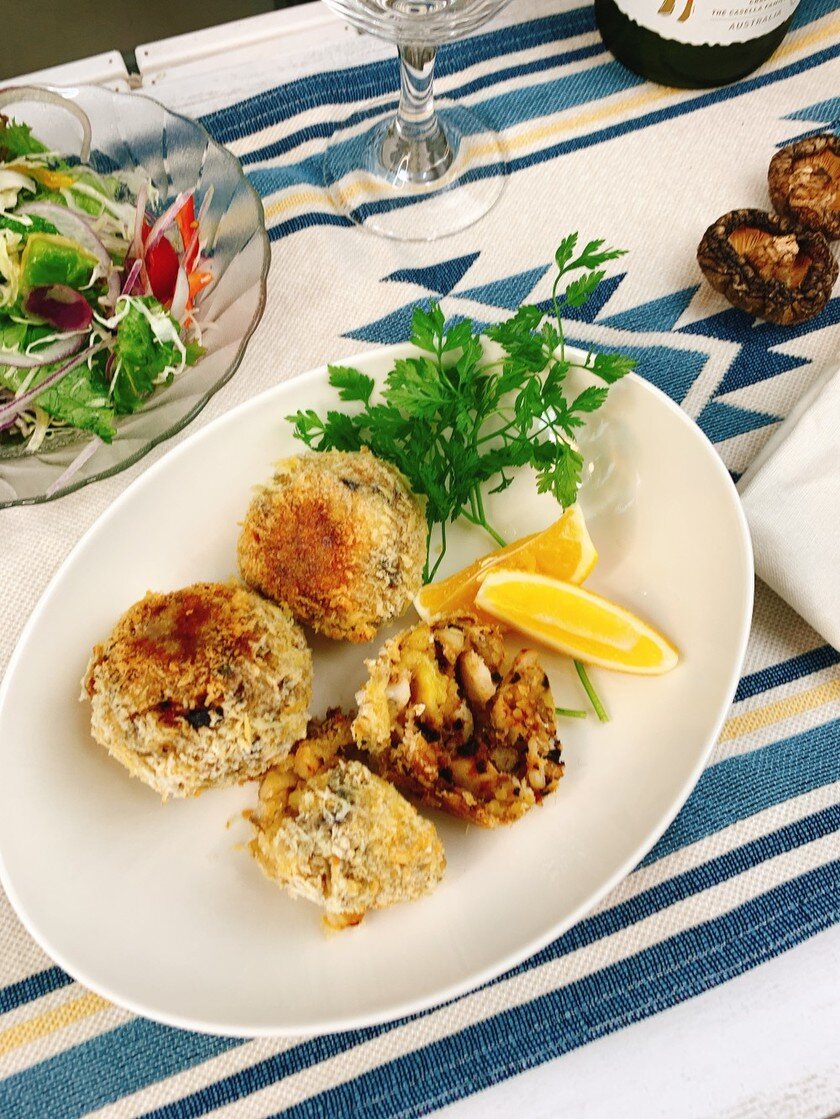 Delicious Fish Cakes with Shiitake Powder
A Harmony of Natural flavors! The Umami taste of Potatoes and whitefish stands out with the synergistic effect of Chinese fermented black beans and Shiitake! Eat them piping hot for the perfect accompaniment to a cold beer! Shiitake powder brings out the best, not by masking or adding another flavor. Zen monks found Forest-grown Shiitake is the best Umami enhancer for Vegan Cuisine more than 1000-years ago in Japan. The drying and rehydrating process of Shiitake produces "Guanylate," a natural Umami energizer. Guanylate amplifies the Umami taste of all foods. Unlike Dried Porcini, Shiitake can enhance the Umami taste of your cooking without adding a mushroom flavor. Tips and tricks: Adding a little water to Shiitake powder and waiting 10 minutes before using, maximizes 3x the Umami Flavor! One dry Tbsp equals one pre-soaked tsp, the same Umami boosting power. The drying and rehydrating process of Shiitake produces "Guanylate," a natural Umami energizer. Guanylate amplifies the Umami taste of all foods. Forest-grown Japanese Shiitake Powder 40g, Natural Umami Booster
Ingredients (3-4 people) (60 mins)
Steps
1
Boil the potatoes (or steam), peel, and roughly mash.
2
Add the raw cod to a pan with A, cover, and cook on medium until heated through, then break the fish into chunks. (Remove the skin and bones.)
3
Combing the ingredients from steps 1. and 2. with the Chinese fermented black beans, oyster sauce, and salt, mix well, and shape into 7- to 8-centimeter rounds. Dredge in flour, egg, and bread crumbs to form a coating.
4
Apply olive oil to the surface of the cakes from 3. with a brush or spray bottle, then bake in a 180-degree oven for 20 minutes.
5
Raise the oven temperature to 220 degrees and bake for 5 more minutes, until golden brown.
6
Garnish with lemon and enjoy.