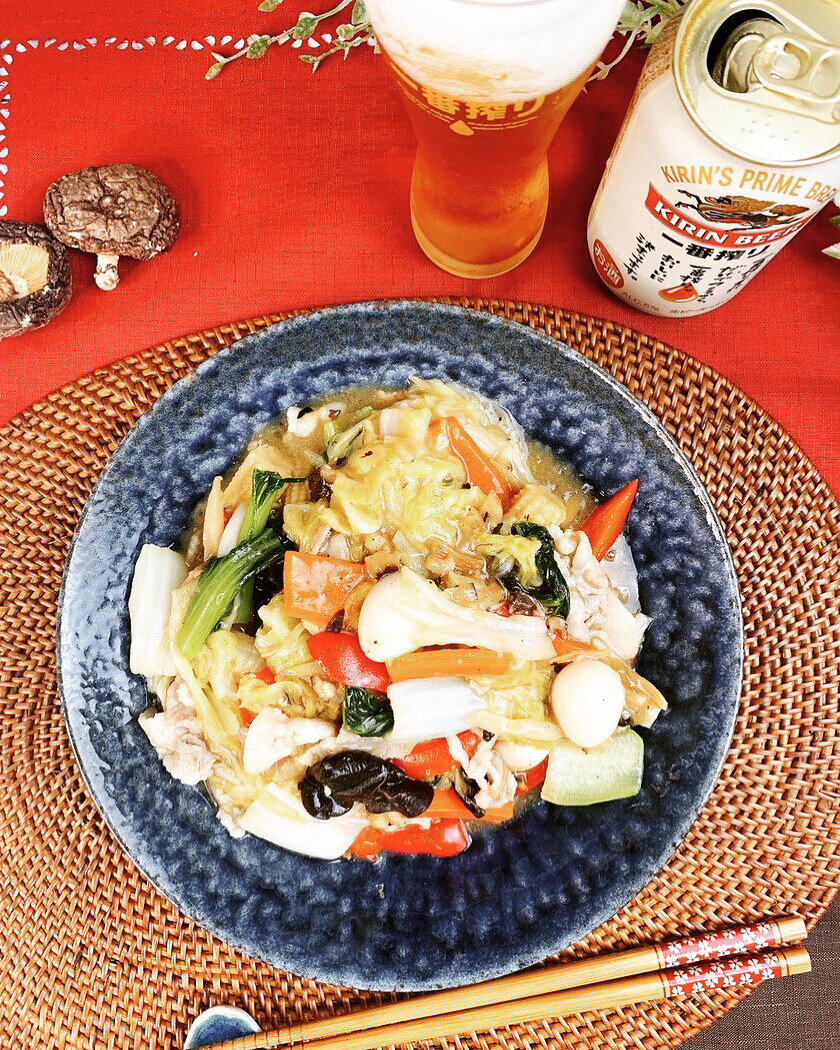 The Umami Taste of Shiitake Powder and Dried Scallop! Eight Treasures Dish
Use Shiitake Powder and the water from rehydrating the dried scallops for a tasty broth! The Umami taste of Shiitake and shellfish are a perfect match♪
Ingredients (4 servings) (40 minutes)
1/4 (600g)

Napa cabbage

2 (300g)

Bok choy

1/2 medium (70g)

Carrot

1/2

Red bell pepper

50g

Young corn

5g

dried Wood ear mushroom

5~6

Quail eggs

150g

Pork

7 (30g)

dried Scallops

20g

Ginger (julienned)

1 Tbsp

Sesame oil

1 Tbsp(dissolved in the same amount of water)

Potato or corn starch

1 Tbsp

Shiitake powder-A

1 Tbsp or less

Chinese seasoning (Weipa) -A

1 Tbsp or less

Oyster sauce-A

1/2 tsp

Sugar-A

A pinch of

salt & pepper-A

2 Tbsp

Sake-A

200ml

Water

50ml

dried Scallop rehydrating liquid
Steps
1
Rehydrate the dried scallops with 100ml of water and let them soften.
2
Cut the pork, vegetables, and wood ear mushroom into bite-size pieces.
3
Heat up sesame oil in a frying pan and stir fry the ginger until fragrant. Then, add the pork and scallops and stir fry at medium heat.
4
When cooked, add 2. and the quail eggs. Once the vegetables start to excrete water, add the A condiments and liquid used to rehydrate the scallops.
5
Bring to a boil, turn off the heat, and add the potato or corn starch slurry.
6
Once the soup thickens, it is ready to serve.